When my mom came to visit me last weekend, she had only one thing in mind, that is, to hang out with her son. That made things pretty easy for me: I showed her around Annapolis, took her to the new Whole Foods in town, and when we got hungry, she mentioned she wanted to blog about something. Did she just say she wanted to blog? I couldn't help but chuckle a bit, but she was serious. My mom is an avid a cook, like me – as is her mom, the matriarchal chef, so to speak, of the family.
As we walked through the produce section at Whole Foods, taking in doses of visual inspiration, my mom must have suggested at least five different things to blog about (now you see where I get my passion from). We needed to focus, so we started by shopping for the kababs: we picked up a bunch of parsley, some onions – but then my mom saw the "cutest tiny eggplants." How could you say no to that? We added a few baby eggplants to the cart for mahshee (stuffed eggplant) and proceeded. Then my mom said we needed something green to go with our kababs, so that's how fattoush (traditional Lebanese salad) made it on the list. I'll post about those other recipes (hopefully) this week, but for now, lets start with the kababs.
mise en place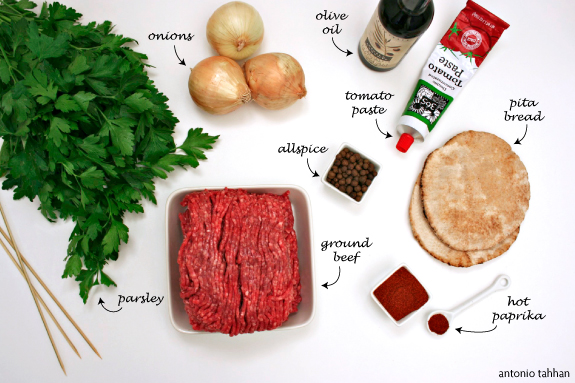 Kabab (كباب) or kebab, like hummus and baba ganoush, has found its nook in the growing, ethnic dining niche. The kababs I usually find at restaurants consist of some sort of meat, be it chicken or beef, skewered with onions, tomatoes, or other eye-catching vegetables. While these exist in the Middle East, my mom and I wanted to show a different type of kabab today.
These kababs take on a similar shape, but are made with ground beef and are flavored with chopped parsley, onions and allspice. All those flavors aside, my favorite part is the fiery-red layer of pita bread they're traditionally served on. The bread is smeared with a tomato paste based sauce, spiked with hot red peppers, and laid as a base for the grilled pieces of meat.
that may or may not be a tear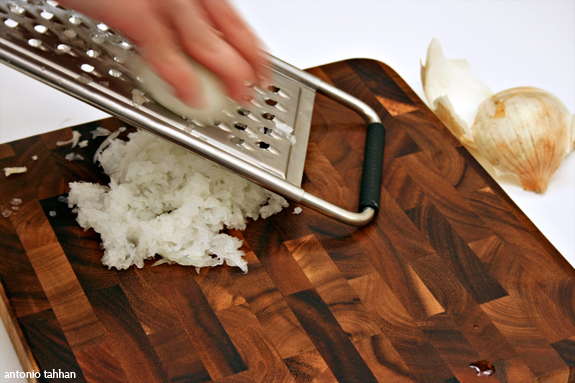 The first step to making the kababs is probably most painful. It involves grating 2-3 medium onions for the meat mixture. I'm sure some people could get by with a mince, but I find that grating the onions releases more of the juices, which keeps the meat from drying out. You can also get by doing this step in your food processor, just make sure not to turn it into onion puree – you want small chunks.
ready to mix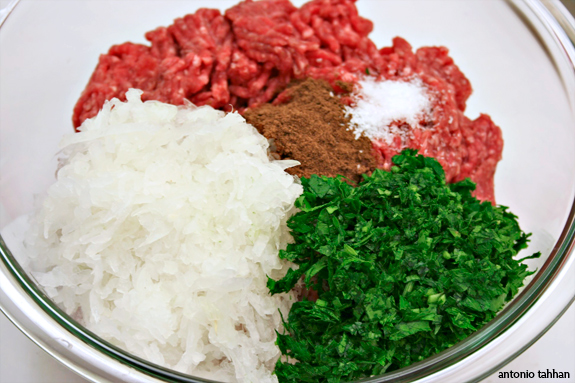 It took my mom a while to get used to photographing each step. I had to stop her before she mixed the meat ingredients together so that I could snap a quick shot of all the different colors. She laughed at me for this, but I figured the food bloggers out there would understand.
forming the kababs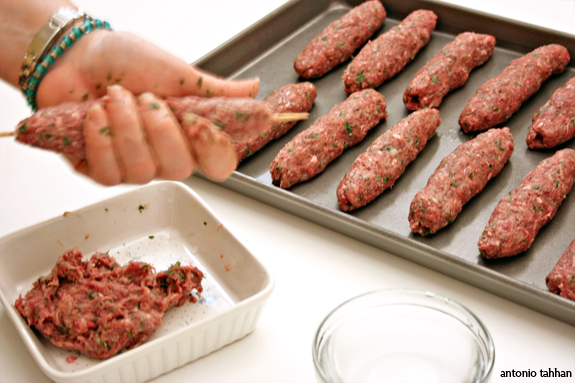 You'll notice that with these kababs, the skewer is only used to pierce a hole through the center of the meat. This, I suspect, helps with even cooking as it allows heat to enter through the hole and cook the inside of the meat while the outside sears.
the amazing sauce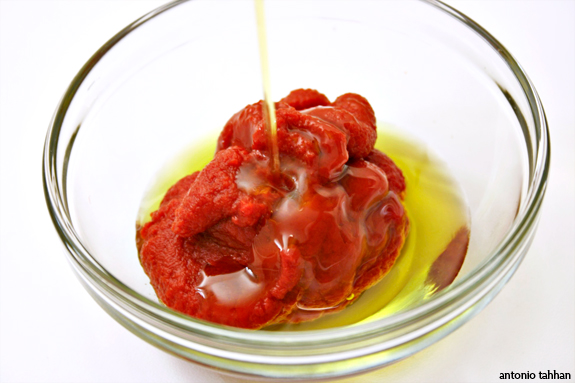 To make the sauce, you'll want to drizzle a little bit of olive oil onto some regular tomato paste. Then, sprinkle a dash of any spicy red pepper – I used hot Hungarian paprika for this – and mix. You might want to season it with a tiny bit of salt, but make sure not to go overboard because the paste already has an intense flavor.
kabab (كباب مشوي)
If you have an outdoor grill, use it. Since I recently moved into my new place and don't have any of that set up yet, I went with my cast iron grill pan for this. You could also use your broiler for this, but whatever you use, make sure that it's really hot. This will help develop a nice sear on the meat.
kabab
yields 14-16 kabobs
Components
1 kg, ground beef (or lamb)
1 bunch of parsley, minced
2-3 onions, grated
2 tsp allspice
2-3 tbsp ice-cold water
1/4 cup tomato paste
1-2 tbsp olive oil
1 tsp Hungarian paprika
pita bread
skewers, for shaping
Putting them all together
Mix grated onions, minced parsley, allspice, salt and pepper into the meat. Break down the meat by massaging it with your fingers, but make sure not to compact it too much. If necessary, add some ice-cold water to make the mix come together.
Once the meat comes together, use a skewer to form its shape (shape it around the skewer) and carefully remove it – making sure to preserve the hole that runs through the meat. Set the meat on a plate or baking dish to be grilled.
Prepare the sauce by mixing together the tomato paste, olive oil and Hungarian paprika* in a bowl, and mix well.
Smear the sauce on pita bread and place, face up, in a large plate.*
Grill the kababs and pile them over the bread as they cook. If serving family style, add another piece of the pita bread with sauce on top to keep the kababs warm while eating.
notes: Traditionally they use regular spicy, ground red peppers, but since I only had hot Hungarian paprika, I used that. If using pita bread with pockets, I like to open them up and smear the sauce on both sides of the bread. The more sauce, the better, in my opinion.
It's also common to see these kababs served with fresh tomato on the side, drizzled with a little olive oil and sprinkled with salt. My mom and I saw this monstrous heirloom tomato and couldn't resist. I should've put something next to it for comparison, but trust me, it was huge (and delicious).
huge heirloom tomato