If you knew the kind of things I've been eating the past ten days, you'd be appalled. After I made the Moroccan chicken and olives dish a couple weeks ago, I carefully set aside some left overs and packed up my entire life into a 14-foot U-Haul. After that, my will to cook was nowhere to be found. I'm sure it was hidden somewhere behind the fortress of boxes that consumed my new apartment, but, for the time being, I was happy with my daily bowls of cereal and occasional sandwiches. A diet devoid of fruits and vegetables – like I said, appalled.
The unpacking process was just as painful because the towering boxes were the first things to greet me as I walked through the door after a long day at work. Slowly though, everything started finding it's place. Since I do most of my blogging from my kitchen, I thought I'd show you my new digs; nothing fancy, but I made sure to find something spacious. My eat-in kitchen was transformed into an extension of the kitchen, where I created an additional 8 feet of counter space by simply propping a dining room table on top of bed stands.
my homemade countertop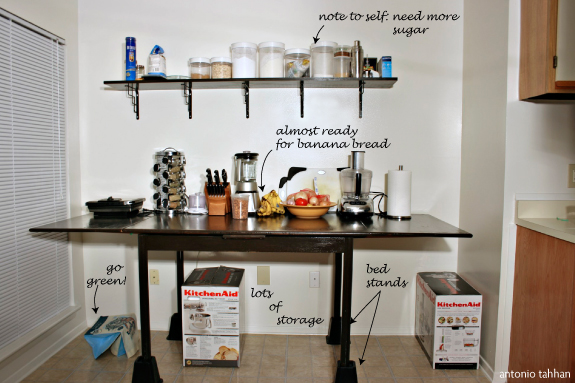 Since the weather has been beautiful the past few days, my will to cook was still nowhere to be found – even though my apartment is now fully unpacked. On my first run to the grocery store, I saw some mussels out of the corner of my eyes that I knew I couldn't pass up.
mise en place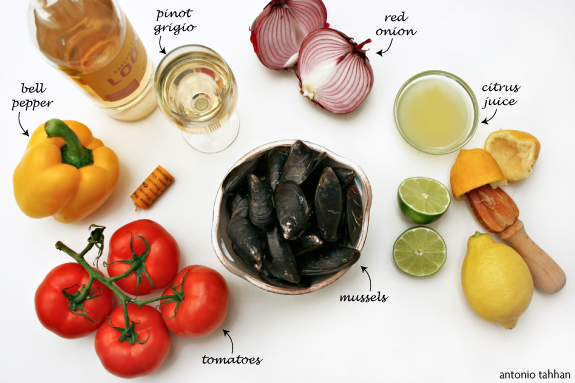 In Spain there's a popular tapas called Mejillones a la vinagreta, or simply Mussels in a vinaigrette; and that is what I set out to make. It's a dish that can be eaten cold and is extremely refreshing and simple to make. The base ingredients for la vinagreta are tomatoes, onions a splash of vinegar and maybe a squeeze of lemon juice, but none of this is set in stone. I've seen some people add hard boiled eggs, others add long green peppers, you get the picture.
wash & scrub each one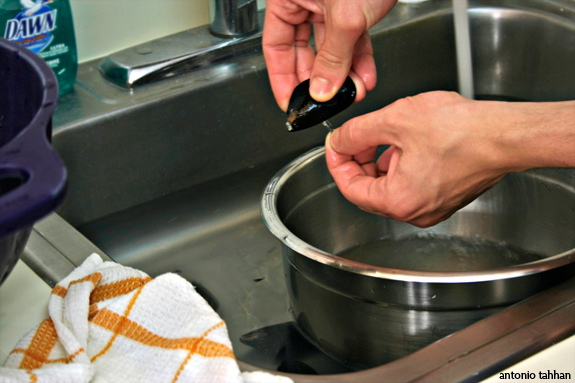 To avoid getting sick you'll want to carefully wash your fresh mussels in cold water, remove their beard and toss out the ones that are open or chipped before cooking. They should also smell like the sea and not fishy. Once their cooked most of them will open up, but if you have a couple stubborn ones in the bunch, simply pry those open and enjoy. (Updated: 06/12)
don't forget the bay leaves (like I almost did)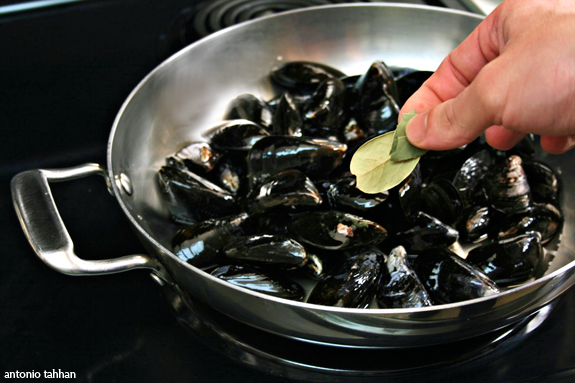 Once you've got all your mussels prepped, the cooking part is simple. You throw them in a large skillet with a glass of white wine you'll be drinking that evening and a couple of bay leaves, cover them and let them steam in the wine for a 3-4 minutes, or until they all open up. Once they cook, I like to serve this dish cold, so I throw them in the fridge while I whip up la vinagreta.
bright summer flavors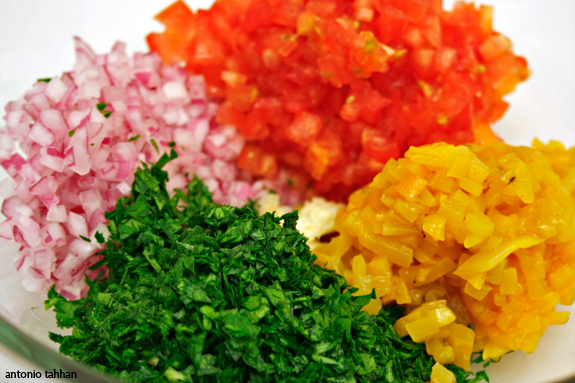 In the end, after changing my mind a couple times of what should go in my vinagreta (after I took the mise en place photo), I decided to throw in some Italian parsley and garlic.
mejillones a la vinagreta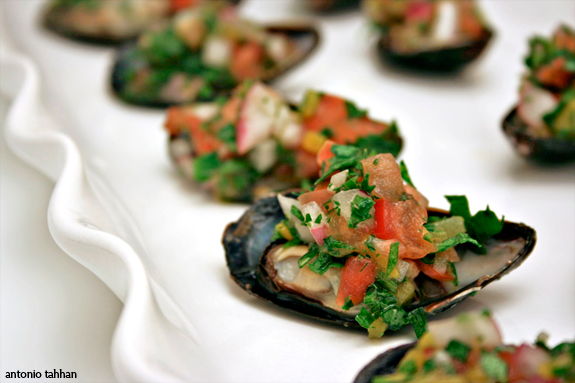 This month we're in Spain for A Taste of the Mediterranean, being hosted by the beautiful Núria from Spanish Recipes. The theme this month is to make tapas – any tapas. I've neglected the contest a bit with my moving, but Núria has gone all out and prepared a post full of Spanish inspiration. Check out her blog, get inspired by how beautiful, simple and delicious Spanish tapas are and then venture to make your own. iGourmet is sponsoring this contest and is giving away a $50 gift certificate to the winning tapas post.
Mejillones a la Vinagreta
serves 6-7 appetizer portions
Components
2 lbs fresh mussels
1 glass of pinot grigio
2 bay leaves
3 tomatoes, finely diced
1 red onion, finely diced
1/3 cup Italian parsley, finely diced
1 roasted pepper, finely diced
1-2 garlic cloves, minced
juice of 1 lemon and 1 lime
1 teaspoon of white wine vinegar
salt and pepper, to taste
Putting them all together
Clean mussels in cold water by removing their beard and make sure to toss any that are open before cooking.
Add the cleaned mussels to a large skillet with the white wine and bay leaves, cover and cook for 3-4 minutes or until they're all open.
Toss any mussels that didn't open and cool the rest in the fridge.
Make the vinaigrette by tossing all the remaining ingredients in a bowl, cover and refrigerate until ready to serve.
To serve, remove half the shell from each mussel and top each one with a tablespoon of the vinaigrette.
signs of a good time