While I was living in Aleppo, I became the de facto ambassador to the city. I was never shy about expressing how much more interesting I thought Aleppo was than Damascus. As the capital city, Damascus always felt formal relative to Aleppo. Walking down the narrow streets of the old city in Aleppo felt like you were stepping back in time. The old buildings showed age, but also splendor. The hidden culinary gems in tucked away neighborhoods packed some of the most magnificent flavors I have ever experienced. I quickly gained a reputation among the US embassy staff and the Fulbright scholars in Damascus. Anytime anyone planed a trip to Aleppo, I was more than happy to show them around my favorite city. I knew my way though the historical sites, but most importantly, I knew where to find all the best food.
One of my last tours was in April of 2011 when my friend Tom, a fellow Fulbright scholar living in Damascus, visited Aleppo with his family. I teamed up with my cousin Zaki who lives in Aleppo and wanted to practice his English. We crammed into tiny Syrian cabs and ate our way through the city.
Anne (Tom's mom), Tom, and Zaki
Aleppo's Souks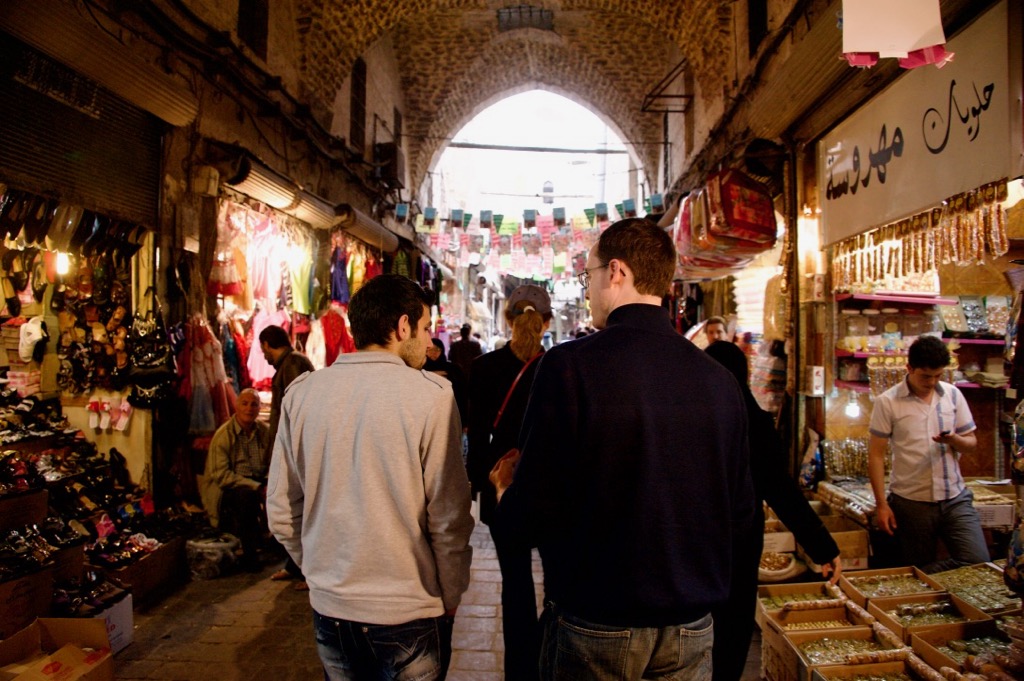 Aleppan dinner at my apartment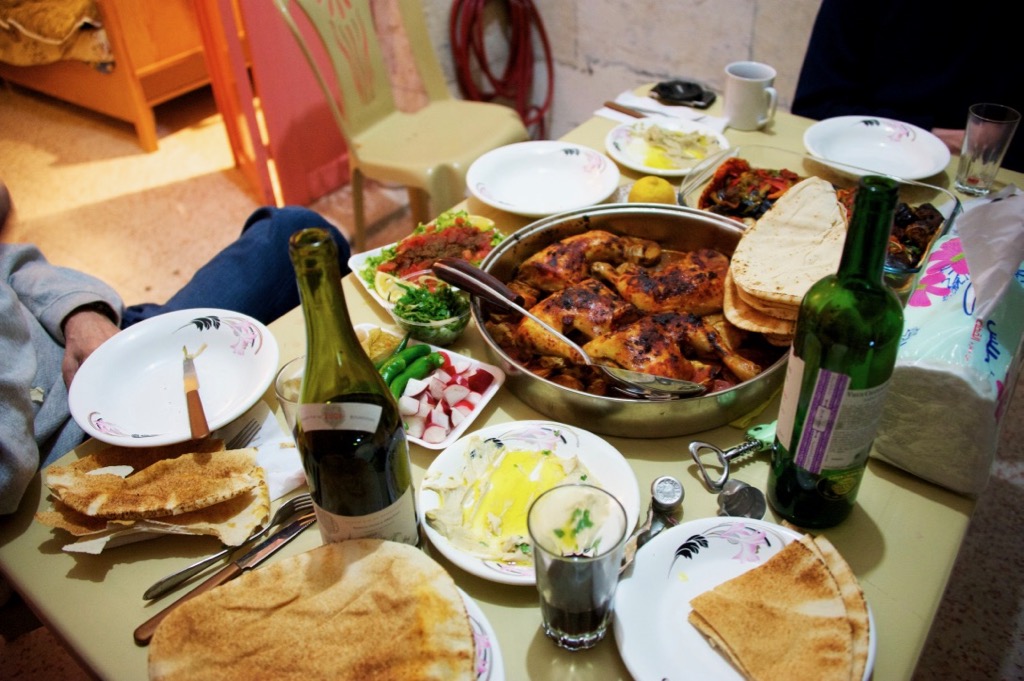 One of the stops we made that evening was at a famous sweet shop called Salloura. If you're from Aleppo, you know Salloura. Salloura evokes sweet happy memories. The original branch was founded in the 1870s by As'ad Salloura's great-grandfather in the city of Hama about 140km south of Aleppo. There's a wonderful series by Dalia Mortada and Lauren Bohn titled Salloura: an Epic of Sweets. It chronicles the history of Salloura and current state of Salloura in a series of articles.
The dessert that made Salloura famous in 1870 was As'ad Salloura's great grandfather's sweet cheese rolls, halawet al jiben (حلاوة الجبن). He sold them in the streets of Hama carrying a tray of these fluffy, chewy rolls over his head.
mise en place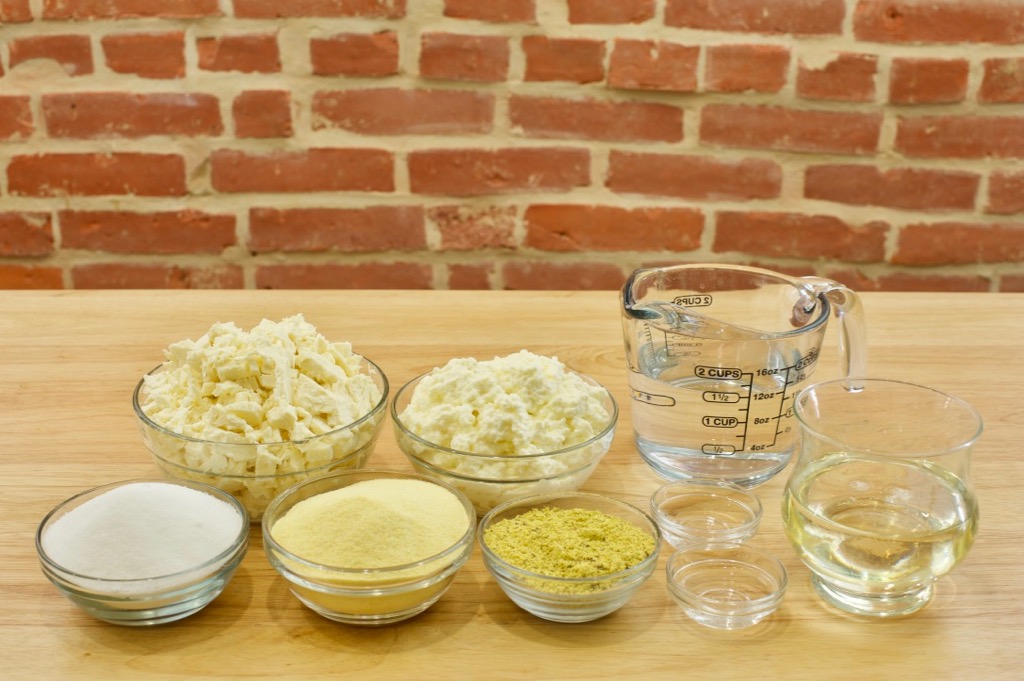 Halawet al jiben, or sweet cheese rolls, is a comforting dessert. It's a soft, chewy dough infused with the fragrant essence of orange blossom and rose water. It gets its name from the sweet cheese (mozzarella curd) that gets melted into the chewy semolina dough and filled with creamy qashta.
If you have a Mediterranean store close by, the best cheese to use for this dessert is sweet cheese or mozzarella curds. You can also use Akkawi cheese, but you need to steep it in fresh water to remove some of the salt content. The goal is to use a cheese with little salt. If you can't find "sweet cheese" at your local market, you can substitute regular mozzarella, too.
mozzarella curd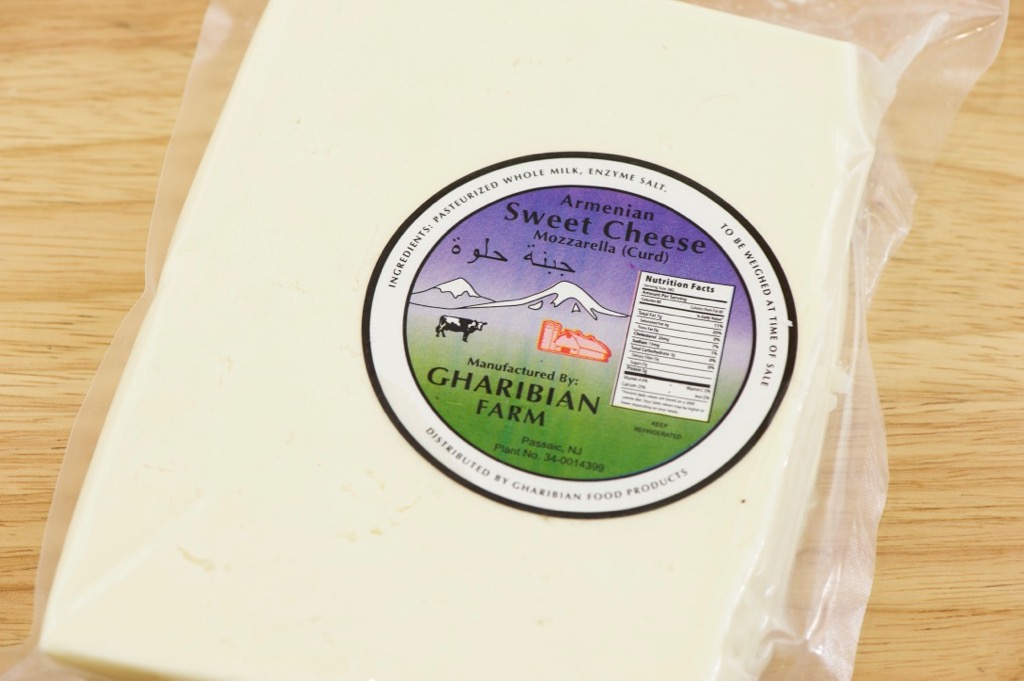 The dough comes together in a matter of minutes. Start heating up water and a little sugar in a large pot. Once the sugar dissolves and the mix begins to bubble, add the cheese that's been cut into small pieces. Stir until the pieces melt together and form a stringy mass.
melted mozzarella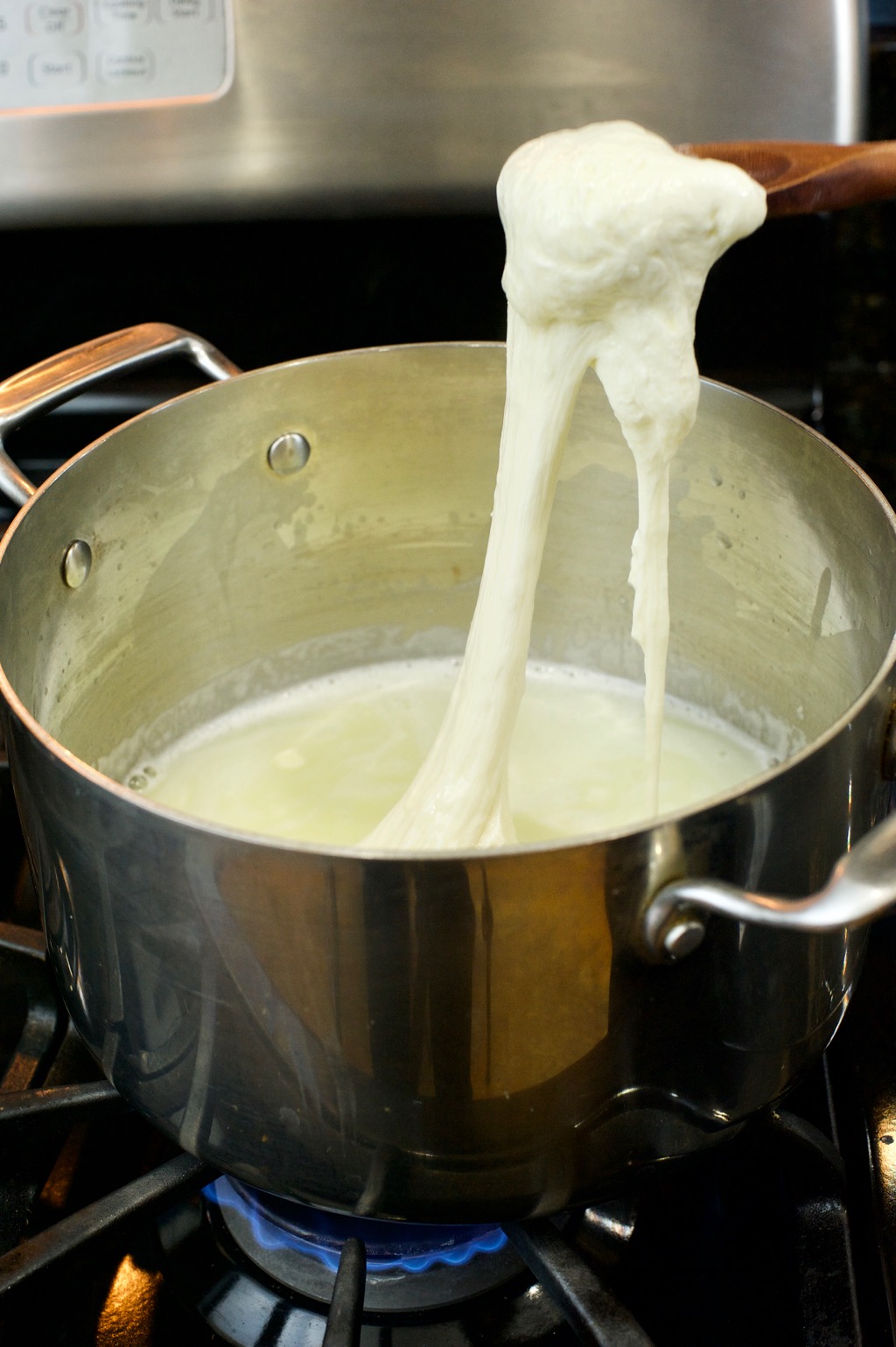 Once the cheese has melted, mix in the semolina making sure to stir constantly using a wooden spoon. There are many grades of semolina that correspond to different thicknesses from fine to coarse. For this dessert, it's important to use fine semolina.
fine semolina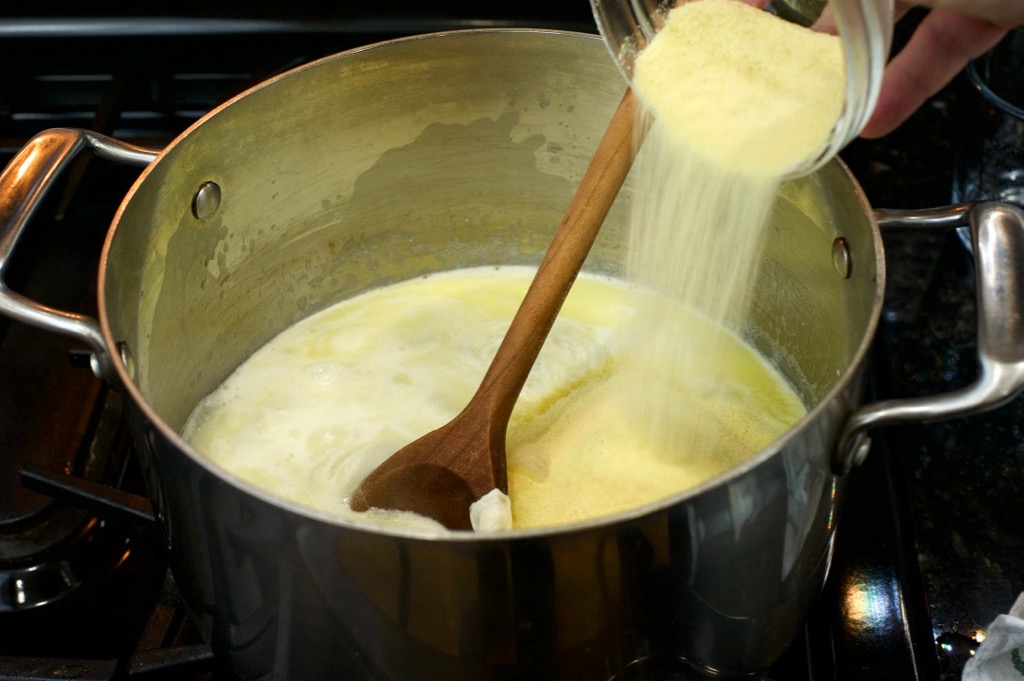 This is when the dough will start to thicken up. Make sure to keep stirring to make sure the cheese completely dissolves into the semolina dough.
cheese-semolina swirl
Once the dough comes together, you'll want to add the fragrant orange blossom and rose waters right as you remove the dough from the heat. This will help preserve the intense flavor of the waters. If you're successful, you'll be rewarded with a soft, billowy cheese dough.
soft cheese dough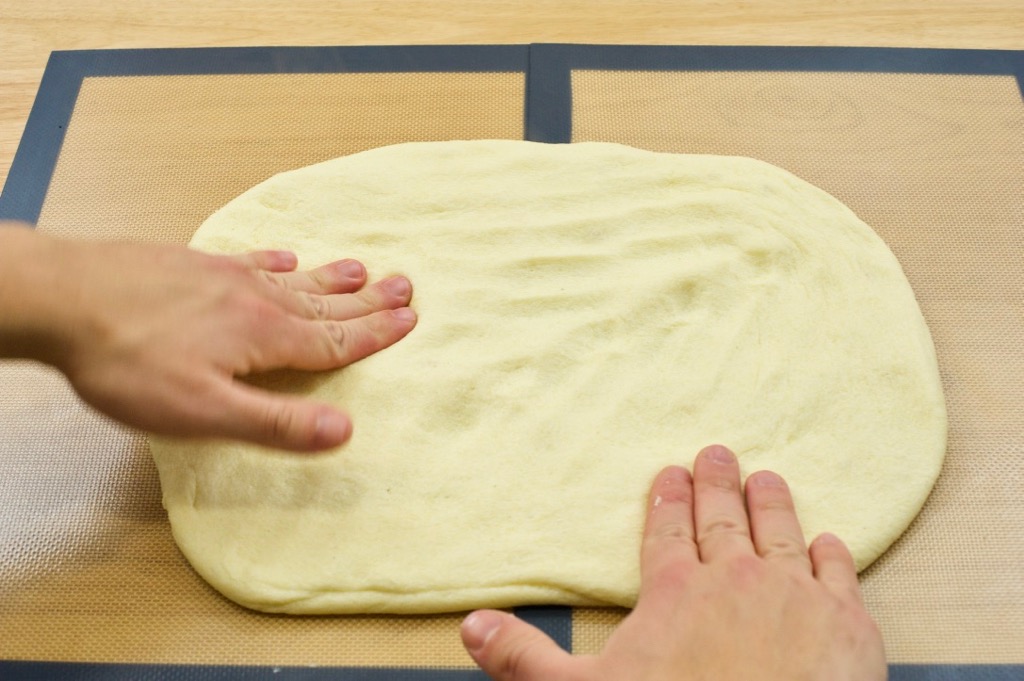 Home cooks in Syria roll the dough out on plastic bags that they've opened into sheets. Since the dough is hot, I recommend using silicone baking mats instead. Once you transfer the dough to the baking mats, use your fingers to carefully open the dough into a rectangular shape. Then use a rolling pin to continue rolling the dough out into a thin rectangular sheet.
thin sheet of cheese dough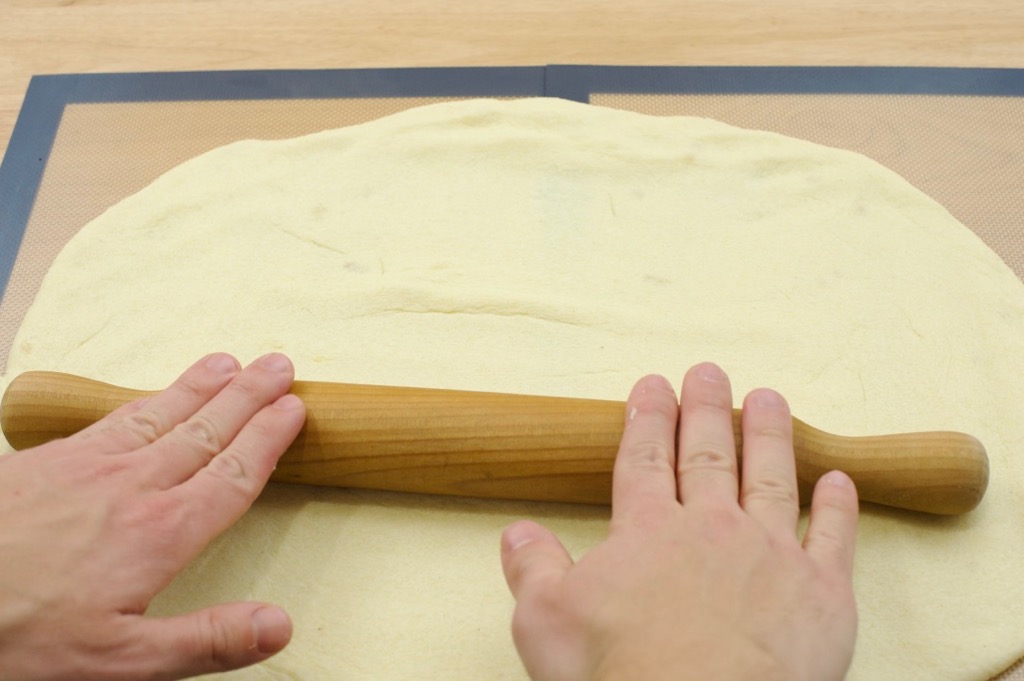 With a sharp knife, cut the edges of the sheet to form a perfect rectangle.
cutting edge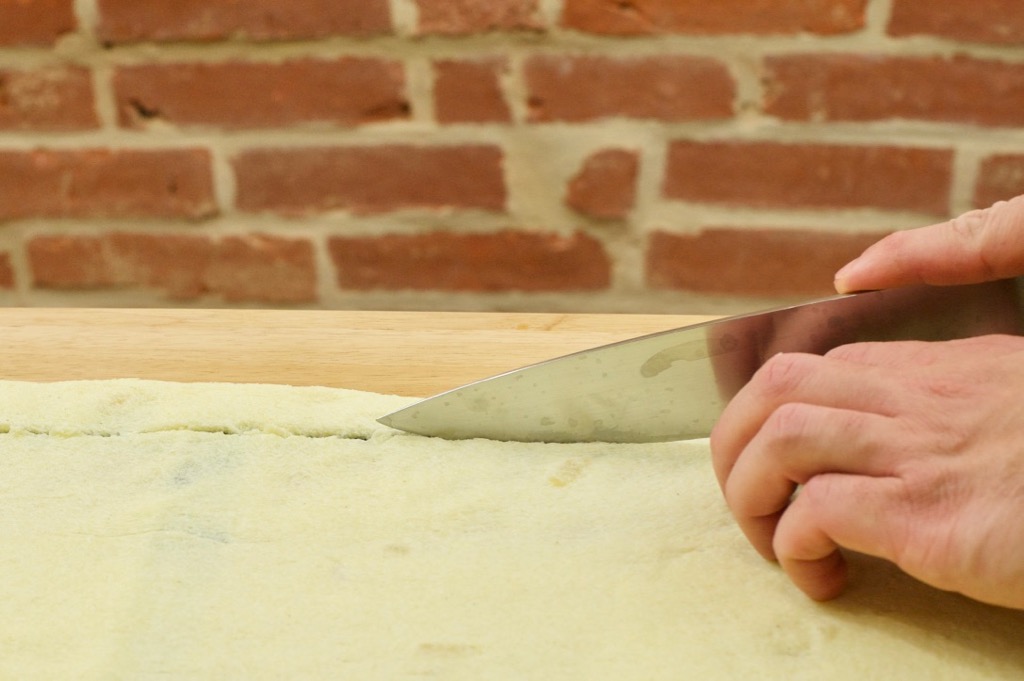 Line the bottom edge of the halawet al jiben dough with qashta and carefully roll the dough around the qashta to form a cylinder.
stuffing with creamy
qashta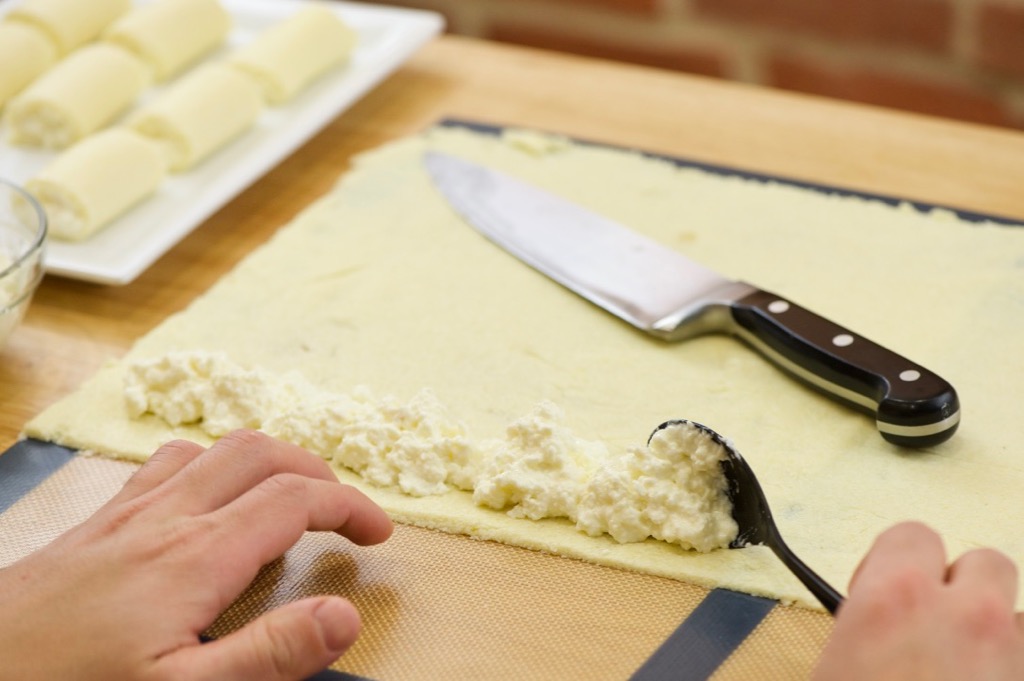 Cut the cylinder and continue filling rows of qashta until you run out of dough. Cut the cylinders into individual portions. At this point, the halawet al jiben can be plated and tightly covered with plastic wrap until you're ready to serve. Once your guests arrive, you'll want to top each piece with crushed pistachios.
pistachios (
فستق
حلبي
)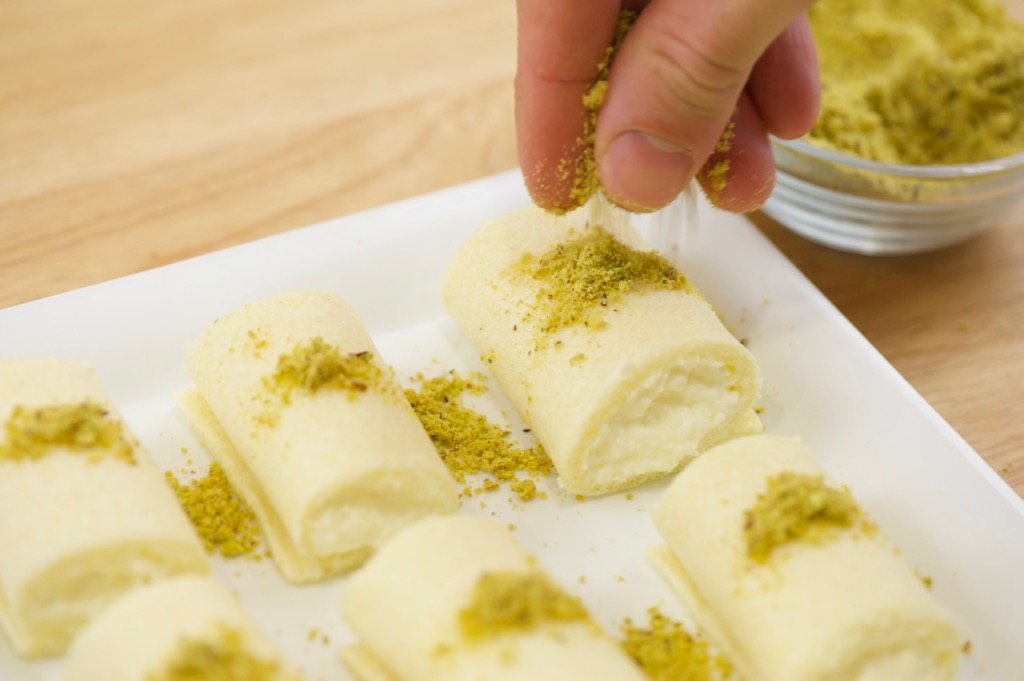 If you recall from the qashta post, the cream filling isn't sweetened. Serve the plated halawet al jiben with a side of 'atar or simple syrup so that each person can choose how sweet they would like their dessert.
orange blossom infused simple syrup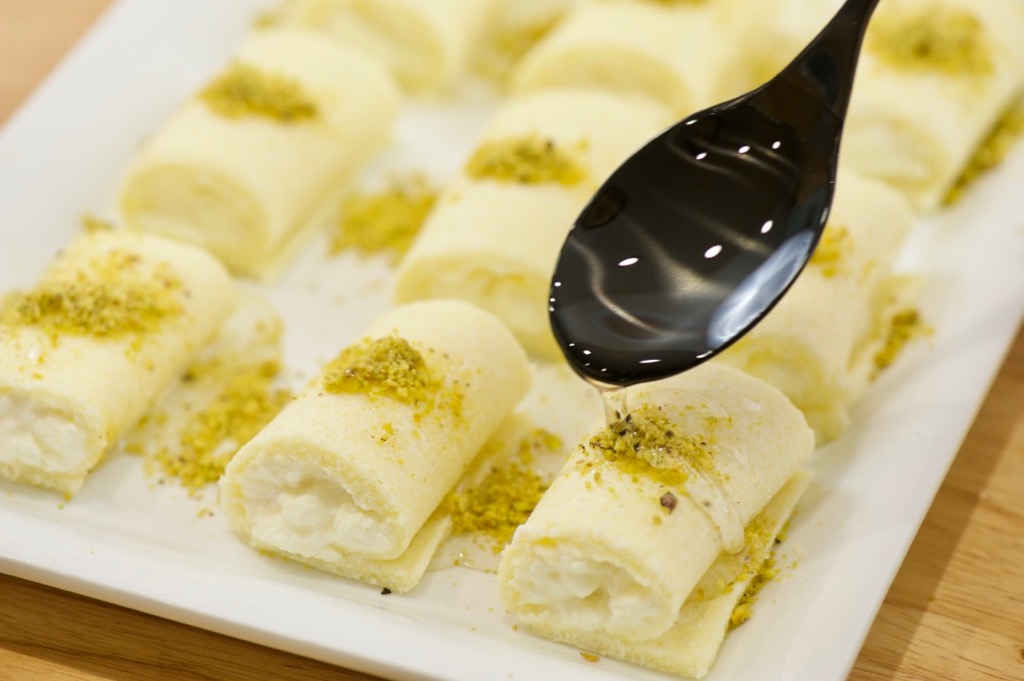 halawet al jiben (
حلاوة
الجبن
)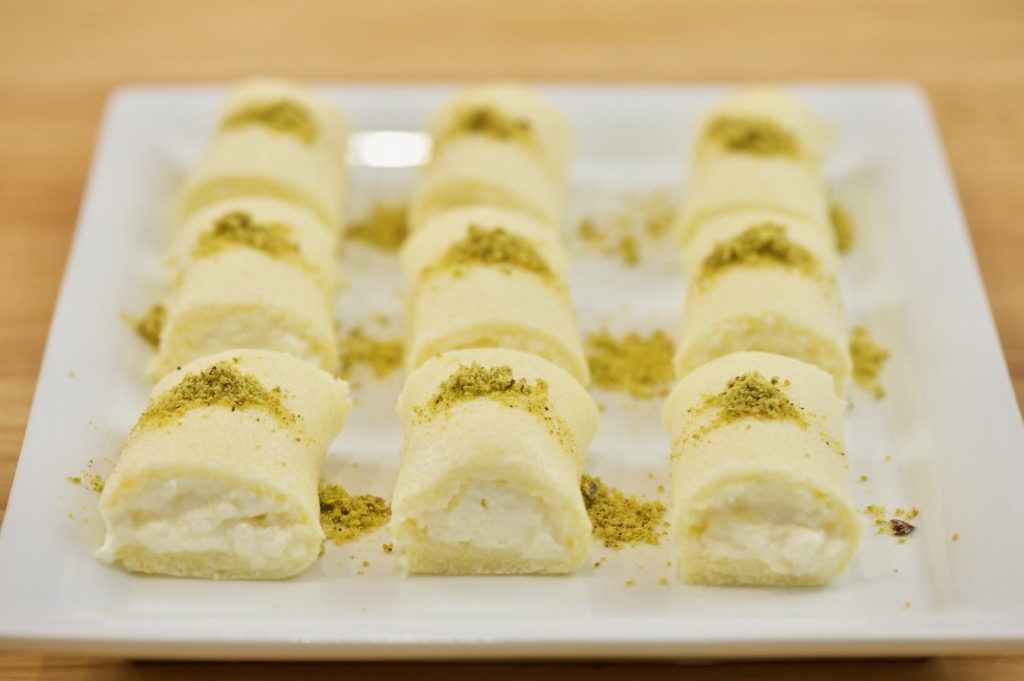 Halawet Al Jiben
yields ~24 pieces
Components
1 cup fine semolina
1 cup sugar
1 2/3 cups water
500g mozzarella curd, cut into small pieces*
2 tsp orange blossom water
2 tsp rose water
4 cups qashta
'Atar (Simple Syrup)
2 cups sugar
1 cup water
1 Tbsp orange blossom water
1/2 tsp fresh lemon juice
Putting them all together
In a small saucepan over medium heat, prepare the 'atar (simple syrup) by mixing the sugar and water together.
Simmer for ~5-7 minutes until the mix begins to thicken.
Add the orange blossom water and lemon juice. Turn off heat and allow to cool. The 'atar can be made days in advance and stored in a mason jar in the refrigerator until ready to use.
In a large pot over medium heat, mix the water and sugar until the sugar dissolves and the mix begins to bubble.
Lower heat to medium low and add the cheese. Stir until the cheese is dissolved.
Slowly pour the semolina while constantly stirring with a wooden spoon. Continue stirring vigorously until the mix becomes a dough. It's ok for some of the dough to stick to the sides of the pan.
Turn off the heat and stir in the orange blossom and rose waters.
Line a counter with silicone baking mats. Move the hot dough to the baking mats and form it into a rectangle shape with your hands (making sure not to burn your fingers). Use a rolling pin to roll it out to a thin sheet (~1/16 inch).
Using a spoon, run a line of qashta down the long edge of the dough.
Roll the dough over the qashta to form a cylinder. Use a knife to slice down the edge and repeat until there's no more dough left.
Slice the cylinders into individual pieces. Sprinkle with crushed pistachios and serve on a large tray with the 'atar or simple syrup on the side.
Note: This recipe makes more 'atar (simple syrup) than needed. No need to use all of it. Allow guests to make their serving as sweet as they'd like.
gushing
qastha