Vegas is all about one thing: over the top, elaborate, in-your-face, decadence. On my trip to Vegas last week I noticed that was a recurring theme. Gelato at 11 o'clock at night. Extravagant shows put on by Cirque du Soleil. The world's largest chocolate fountain. Vegas is decadent. Sure, some people perceive its decadence in other more "lewd" ways, but I was there to experience the amazing food. I also learned how to play Craps along the way, but that's a different blog post.
I uploaded more photos from my Vegas trip to Flickr.
Wynn Hotel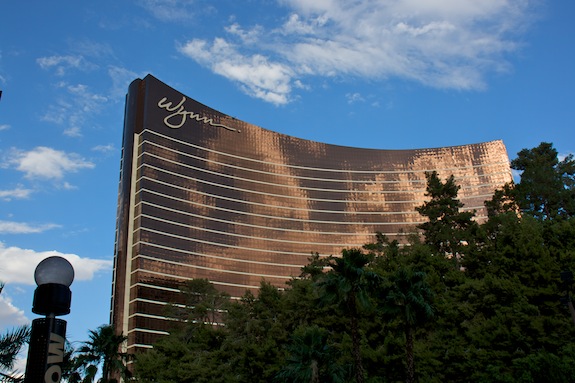 Beignets Filled with Oozing Chocolate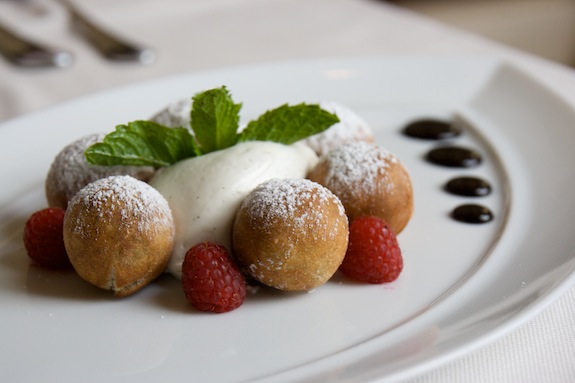 Restaurant: The Country Club
SW Steak House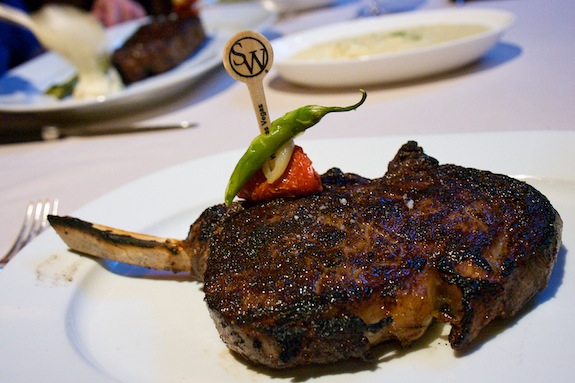 Restaurant: SW SteakHouse
Kobe Beef Carpaccio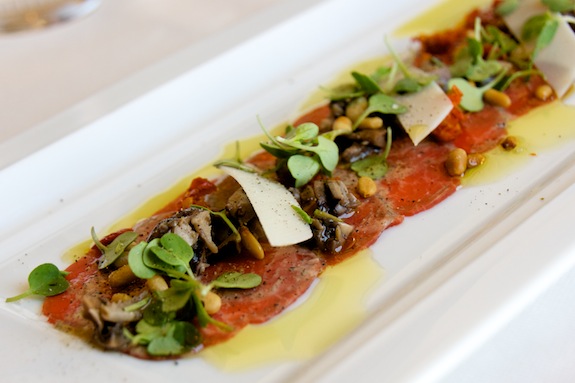 Restaurant: The Country Club
Duck Coated in a Fig-BBQ Sauce Served on Brioche Bun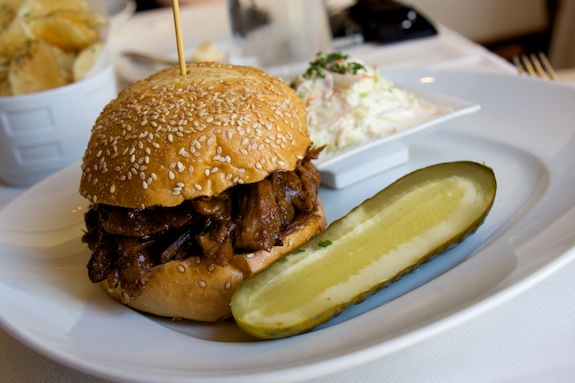 Restaurant: The Country Club
Lots of love at Jean Philippe Patisserie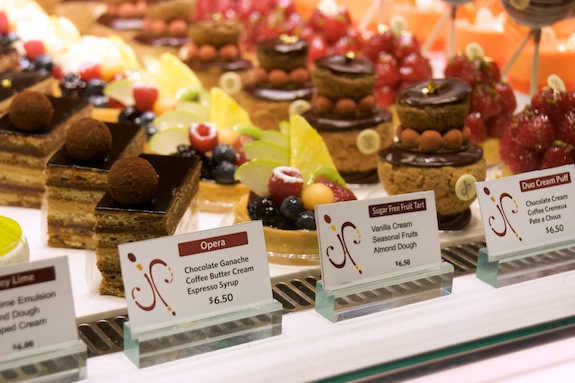 Restaurant: Jean Philippe Pattisserie
Out of all the dishes I had that week, my absolute favorite, which was not an easy decision to arrive at (as you could see), featured house-made elk sausage. It was the only dish I ordered twice that week. I don't usually order a dish twice, but I had to make an exception. It was that good. The sausage, you see, was served on a bed of a marble potato hash cooked with pancetta and a mix of sweet peppers and onions. And gracefully balanced atop of the elk sausage rested a perfectly poached egg. It was perfect — no undercooked egg white and a barely warm yolk, still very runny of course. In order to qualify for Las Vegas decadence status, however, you need that extra something. That extra something, in this case, was the beautifully prepared, buttery choron sauce. If you've never had choron sauce, just think béarnaise with a bit of tomato purée. Instead of the puree, however, the chef incorporated a fine dice of sun dried tomatoes to achieve a similar flavor with added texture.
Elk Sausage Served with Poached Eggs and Choron Sauce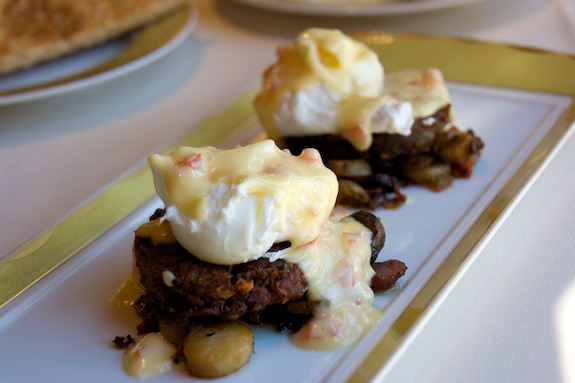 Restaurant: Tableau
Me and Chef Timothy Henderson at Tableau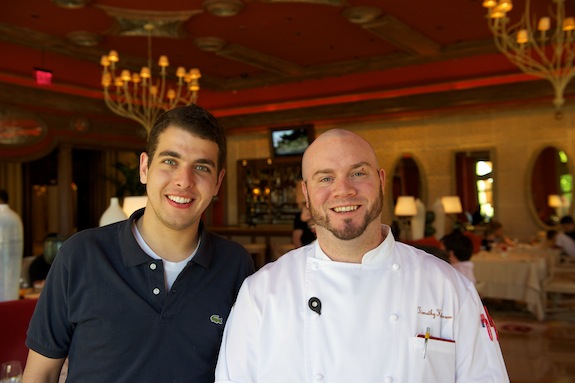 Photo Credit: M. Scott Smith
Today, I decided to pay tribute to Las Vegas with an equally decadent blog post. I didn't have to look too far since I have plenty of decadent brioche left over from my previous post. You can't tell from the photos, but I had made 2 batches of brioche, which left me with 4 total loaves, and 6 sticks of butter less in the fridge. But that's not enough. In order to come close to Vegas-level decadence, I needed something more. I needed that charon sauce — something to take this already rich bread to new levels of decadence. Chocolate was the answer (as it almost always is).
mise en place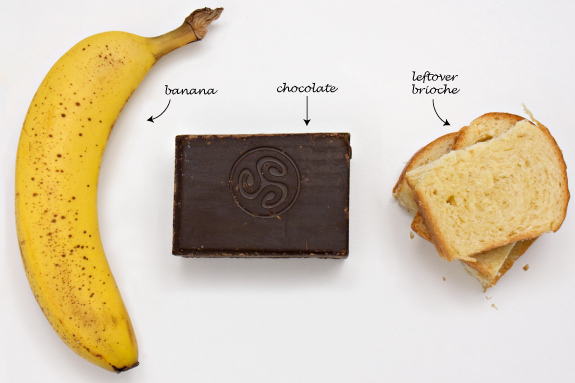 With some spotty bananas sitting on my counter, I decided to turn some of my left over brioche into mini chocolate-banana panini.
banana-chocolate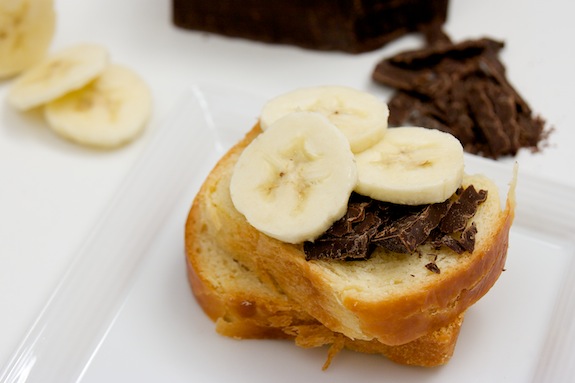 wait, wait… some extra chocolate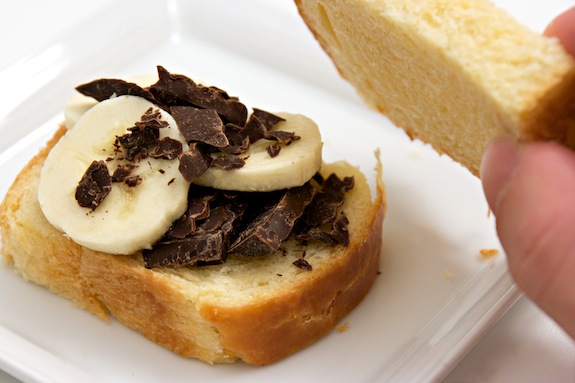 panini press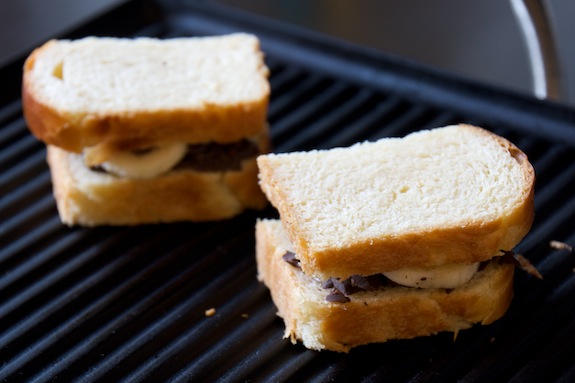 chocolate-banana brioche panini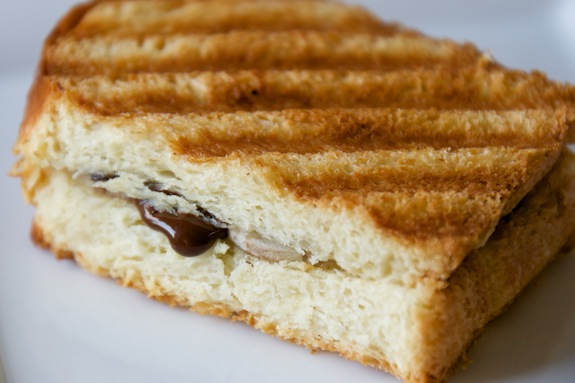 Chocolate-Banana Brioche Panini
yields 4 panini
Components
4 thick slices of brioche (1/2 inch)
High Quality Dark Chocolate (50-70% Cocoa)*, medium chop
thinly sliced bananas
Putting them all together
Cut each slice of brioche in half.
Layer chocolate chunks topped with a few slices of banana and an extra sprinkling of chocolate. The chocolate will act as a glue and keep the bananas in place.
Melt the chocolate in a panini press or on a skillet over a burner*.
Notes: I used Callebaut Chocolate for these panini, although any high quality dark chocolate also works — El Rey (Venezuela) and Valrhona (France) are a couple of my favorite brands. You could also make your own panini press by placing your sandwich in a large skillet over medium heat and topping it with another heated skillet (cast iron works best because it's heavy).
oozing chocolate, creamy banana, buttery brioche — decadence accomplished