Today I'm going to blog about brioche. It's been long overdue, let me explain why.
It all started a few weeks ago when I received an email from the Culinary Institute of America. The Culinary Institute of America. I had to read the message a few times so the words could sink in. Dean Sciacca, a dean at the culinary school and reader of my blog, was inviting me to give a talk on storytelling and culinary tradition at their Hyde Park campus in New York. I had never done any public speaking before; not outside of school at least. I was excited, nervous, curious, honored — all at the same time. I wrote back with the most enthusiastic yes I could possibly muster in an email, all while keeping my cool (I think).
It was my first time riding Amtrak. The entire experience was pleasant: no need to show up hours early or stand through long lines, and the seats weren't bad either — very comfortable. The sky was overcast with large billowy clouds stretching across the horizon. Next to me on the train was an equally charming American expat. She had moved to New Zealand and was back to hike along the Appalachian Trail and visit family in Virginia. She was starting to develop a Kiwi accent, which I thought was really neat. We talked a little about life, traveling, food (of course), but mostly, we stared out our window at the Hudson. The train ride went by quickly that way. As soon as the train neared Poughkeepsie, the clouds, almost as if they were greeting us to our final destination, moved aside to reveal a beautiful summer day.
Dean Sciacca met me at the Poughkeepsie train station where we met in person for the first time. I remember thinking she is just as cool in person as she had been in her emails. And I'm not just saying that because she's probably going to be reading this — she really is that cool. We clicked instantly. Two people passionate about food and technology. One of our first conversations was about how much we love our iPhones. At that point I knew I was in good hands.
The short ride from the Poughkeepsie train station to Hyde Park reminded me a lot of Ithaca, NY, where I went to school; it's a very quaint and agricultural area. I dropped off my bags at the hotel and we made our way to The Culinary — that's how they refer to it there.
bright, sunny day at The Culinary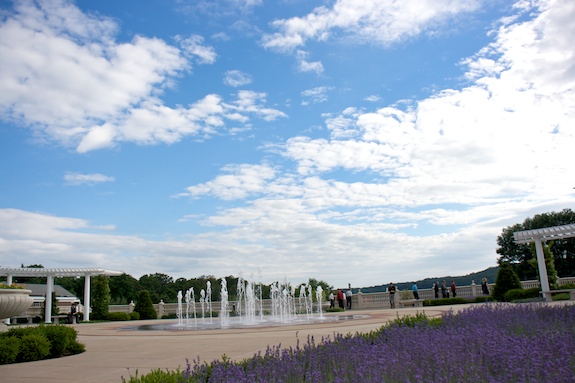 When we arrived at The Culinary, Dean Sciacca introduced me to Jason, a senior culinary student and bread enthusiast, who gave me a quick tour of the campus before dinner. I should state now, for the record, that I don't think any college campus offers better food to its students. The system is brilliant. Since so much food is prepared in the production kitchens each night, students only swipe their campus ID cards to gain access to any of the themed production kitchens. Dean Sciacca arranged for us to have dinner at Chef Eisenhauer's Mediterranean production kitchen that evening.
Chef Eisenhauer's Mediterranean Kitchen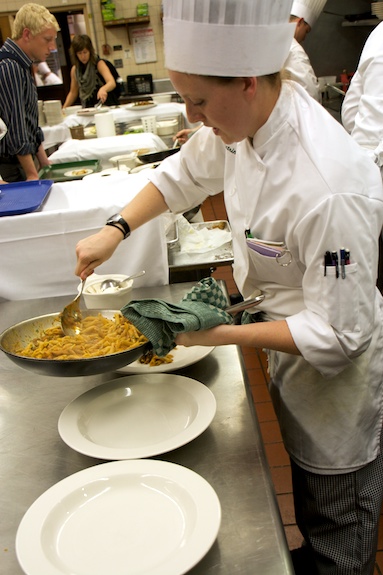 As we entered the kitchen the expediter asked me which of the four Italian dishes I was having that evening. I remember all the entrees sounded delicious, but I went with the chef's recommendation, gnocchi served with a velvety duck ragu and toasted pancetta bits. My order was shouted across the kitchen and the line continued.
Dean Sciacca and I split up for dinner and I joined a group of culinary students to fill me in on what student life was like at The Culinary. The dining hall we entered was not like the ones I remembered back at school. This looked like it came right out of a scene from Harry Potter. I wish I had taken a picture of it. It was majestic with an elaborate cathedral ceiling, stained glass windows and regal architecture. We grabbed our beverages and took a seat at the back of the dining hall, with a view overlooking all the students enjoying their meal.
gnocchi with duck ragu and crispy pancetta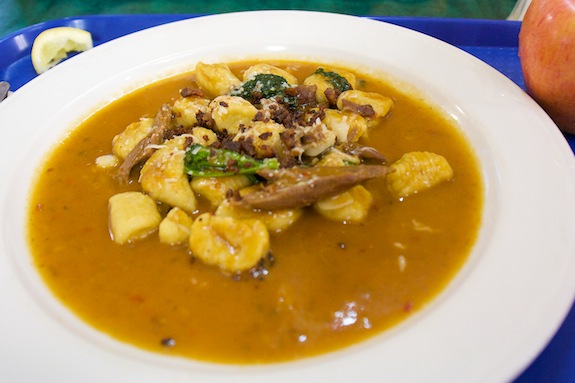 Each bite of the gnocchi was like biting into one of those billowy clouds from earlier that afternoon. In fact, I'm convinced that's where they ended up, on my plate. The gnocchi was light and airy, and floated gracefully in the duck ragu, which was not overly heavy like a traditional ragu, but had a rich silky texture to it. Then there was the pancetta. Oh, the pancetta — crispy pieces of pork goodness sprinkled over the gnocchi. It was perfect. Slightly salty and a nice crispy contrast to offset the soft cloud-like potato gnocchi.
I posted some more photos from the rest of my trip on flickr. But, I have to tell you about the brioche. This brioche is excellent.
The inspiration to blog about brioche came from Jason, the bread aficionado who had shown me around campus. I have never heard anyone talk about bread more passionately than him. He liked talking about food, but bread was his passion. At one point I remember asking him what his favorite bread was, and without the blink of an eye, or a hint of hesitation, he said, brioche. That's how I knew what my next blog post had to be on.
mise en place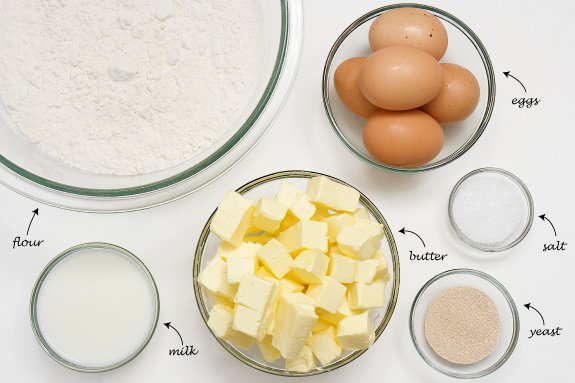 Until last week, I had never made brioche at home. I'll admit that the thought of baking bread, particularly something like brioche, was pretty intimidating. That was something I left for the experts, like Jason. The most elaborate bread I had made up to this point was Jim Lahey's no-knead bread, and maybe Focaccia, if you consider that elaborate.
Brioche, for those who have never had it, is an enriched bread made with flour, butter (lots, and lots of butter), eggs, yeast, and a bit of milk. How much butter you add to your brioche distinguishes it between a poor man's brioche and rich man's brioche. I decided to follow one of Jason's friend's motto for this one: "mo' butta' mo' betta'."
make sure your yeast is alive n' kicking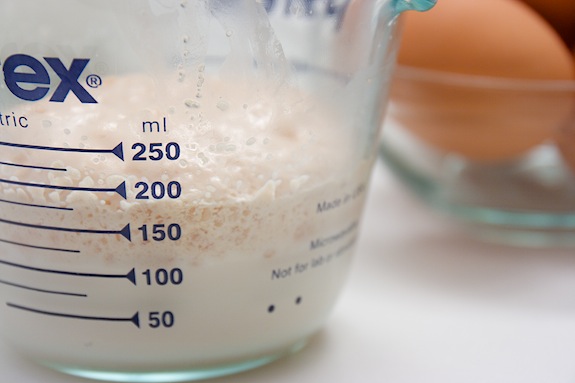 If I've learned one thing from baking bread is that you always, always, want to check to make sure your yeast is alive and kicking. 10 minutes in the beginning can save you a lot of pain and heart ache. Flat, dense brioche is no good. Check your yeast.
add butter piece by piece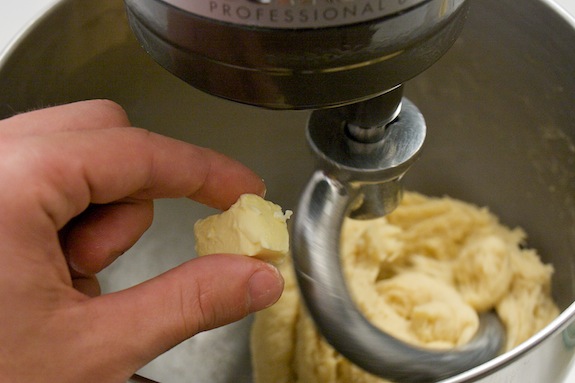 This is the scary part. The butter. If you're squeamish about this sort of stuff, cover your eyes and scroll down to the next post. Brioche isn't the healthiest thing in the world, but the problem is that it's so incredibly and utterly delicious. Another thing I've learned over the years is that the French know what they're talking about when it comes to cuisine, but particularly bread. Bread is their thing. They are to bread what Shakespeare is to literature; masters, that is. Three sticks of butter and four eggs. That's what it takes.
egg wash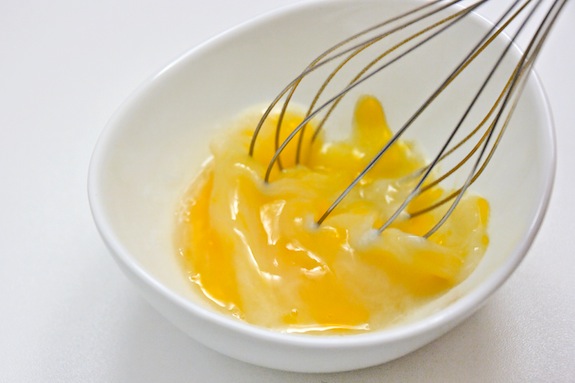 After you saturate the dough with good quality butter and give the gluten a workout, you'll want to refrigerate the dough for at least 6 hours or better yet, overnight. This is probably a good time to do a few sit ups or pushups, if that will help you sleep better at night. I just use it as an excuse to eat extra bread the next day.
78g
light coat of egg wash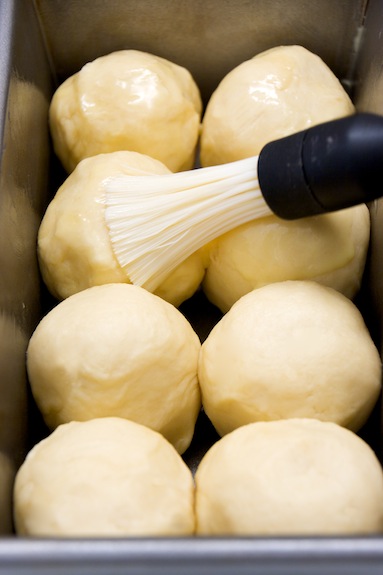 brioche loaf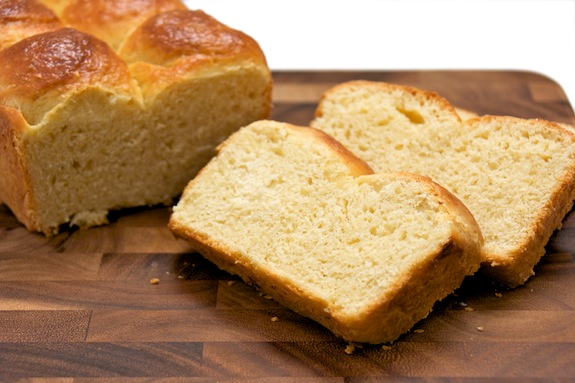 Brioche Loaf
yields 2 loaves
Components
576g bread flour
340g good quality butter (3 sticks), soft but pliable
4 eggs
7g dry active yeast
125ml whole milk
14g salt
eggwash
Putting them all together
Dice the butter into smaller pieces and set aside.
Stir yeast into lukewarm milk (no more than 115 degrees F) cover and let sit in a warm dark place for 10-15 minutes. If your mixture is foamy and full of tiny bubbles, you're ready to begin. Otherwise, you may have inactive yeast. You can add a tiny drizzle of honey to the milk mixture to speed up the process.
Mix together the flour, milk mixture, eggs, and salt and mix on low speed for 3-4 minutes or until the dough barely begins to come together.
Begin to add the butter, piece by piece, until all of it has incorporated into the dough.
Once the butter is fully incorporated, continue mixing the dough on medium speed for 15 more minutes, or until the dough begins to pull away from the bowl.
Place the dough into a greased bowl, cover, and refrigerate overnight.
Lightly grease 2 2-lkb loaf pans.
Divide the dough into 16 even pieces (approx 78g each).
Roll each piece into a ball and place it into the loaf pans to form 2 rows of 4 in each pan. Brush the loaves lightly with egg wash, cover with plastic wrap, and proof in a dark warm location for 2 hours, or until the dough has doubled in size.
Brush with egg wash a second time and bake in a 400F/204C oven until the crust is a deep golden brown and the sides of the bread spring back fully when pressed. This usually takes 30-35 minutes.
Remove from the pan and cool completely on a wire rack.
Notes: Make sure you have a powerful kitchen stand mixer for this.
brioche with basil-infused peach jam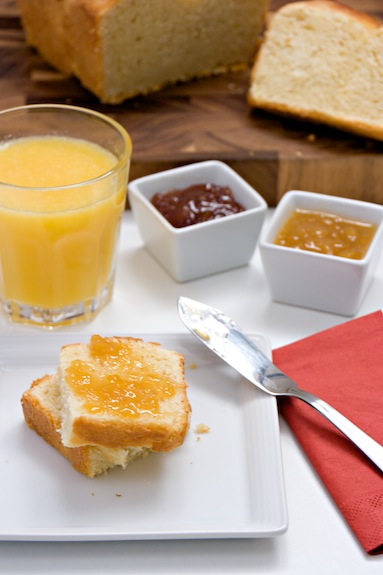 *My friend Lecy Mayes made the basil-infused peach jam for me as a gift — the flavor combination is spectacular!
Special thanks to Dean Sciacca for hosting me at the Culinary Institute. Chef Eisenhauer for the delicious dinner that came out of her Mediterranean production kitchen. Laura Pickover for attending my talk and sharing her awesome blog. Jason (the bread expert) for giving me a tour around campus and inspiring me to make brioche at home (my new favorite bread). Diana and Stephen for having dinner with me the first day. Chris and Phil for giving me a second tour around campus and showing me around the Hyde Park. And finally, all the faculty, staff, and students at the Culinary Institute of America who hosted me and made this culinary adventure of a lifetime possible. Thank you!