Last month, if you recall, was essentially dedicated to moving to my new place. I was also finishing up school, going to work and trying to keep up with my blog, with an emphasis on the word trying. My friend Marianna, however, made things slightly easier for me because she, her husband and adorable baby girl recently moved a new house and didn't need their old moving boxes anymore.
On a Tuesday afternoon, after work and without notice, I gave Marianna a call to see if I could swing her place by for the boxes. She responded with a quick "of course – اهلا و سهلا" and then asked how far away I was. I should mention that Marianna is a true Lebanese and could not possibly live with herself if I didn't walk out of her home weighing 5 lbs heavier – so, I lied about the fact that I was right around the corner, and told her not to go through any trouble, that just coffee would be fine. My request, of course, made no difference.
mise en place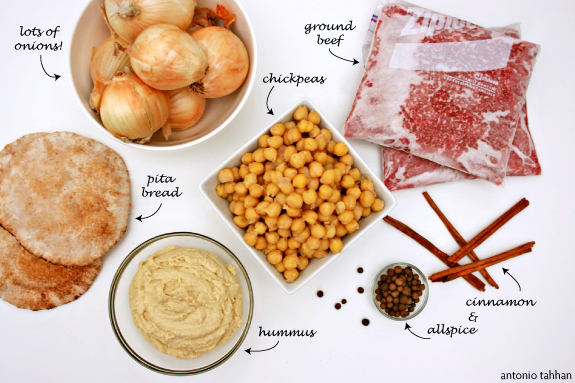 By the time I got there, Marianna had already prepped the tomatoes, mint and cucumber for fattoush (فتوش), was defrosting pita bread for some manaqish (مناقيس), had ground beef and minced onions cooking on the burner, all while in high heels and keeping an eye on her daughter playing with her toys on the counter. As soon as I walked through the door she kissed me three times on alternating cheeks, asked me if I wanted anything to drink and instructed me to make myself at home – so I followed her to the kitchen and watched her as she prepared the fateh (فتة).
toasted pita, garlic, hummus water & lemon juice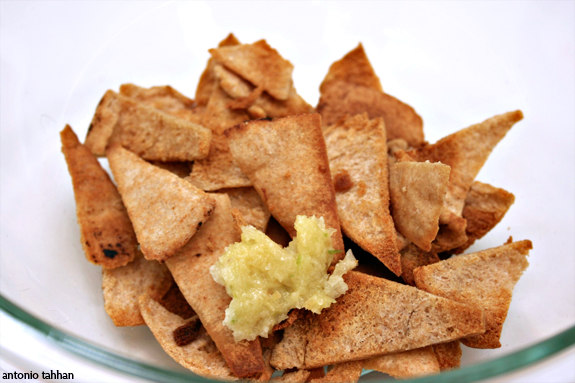 Fateh is a traditional, layered Middle Eastern dish that can be done a variety of ways: with chicken, cow's tongue, or how we were having it, with ground beef. The layering starts off with a thin coating of traditional hummus on the bottom of a casserole dish. The second layer is a mix of toasted pita bread, minced garlic, a splash of lemon juice and a drizzle of some of the hot water leftover from boiling the chickpeas. The point of this step is to give the toasted pita some flavor and make the traditionally stale bread slightly soft, but not soggy.
hands are the best tools for this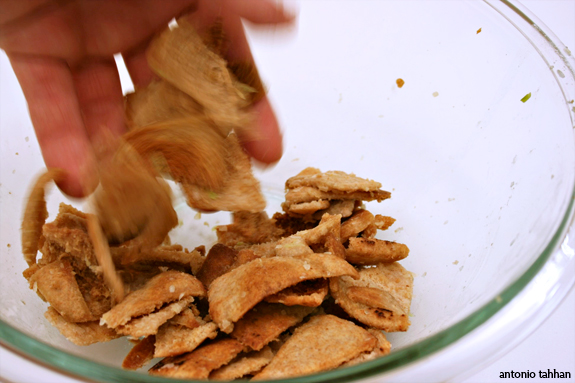 Once the bread is fully coated I give it another toss with the cooked chickpeas. You could do it all in one step, but I don't like how the shells come off the chickpeas when you toss them too much. This way the chickpeas get coated, but also preserve their shape at the same time.
fateh (
فتة
)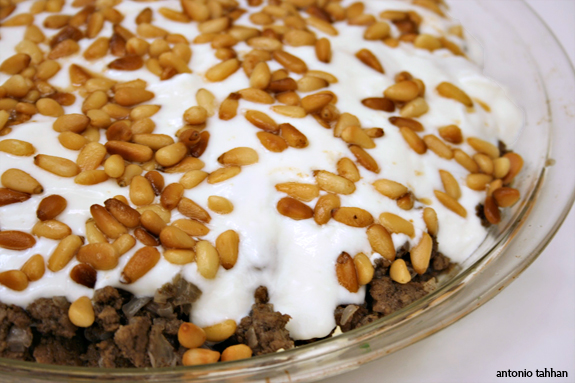 The third layer is the ground beef cooked with the onions, allspice and a pinch of cinnamon. Finally, you'll want to top everything with a healthy spread of plain, whole milk yogurt and garnish the dish with toasted pine nuts and usually minced parsley – but I didn't have the latter.
Fateh
approx 4-6 servings
Components
1 lb ground beef
1 cup hummus, classic
1 cup chickpeas, cooked
2 yellow onions, diced
1 tsp allspice, ground
a dash of cinnamon, ground
2 cloves of garlic, minced
5 tsp, freshly squeezed lemon juice
4 loaves of pita breads, split in half, and cut into triangle wedges.
a splash of hot water (preferably from boiling chickpeas)
3 cups plain yogurt, whole milk
2 Tbsp tahini
1/4 cup pine nuts, toasted
3 tbsp flat leaf parsley, minced for garnish
salt, to taste
extra virgin olive oil, to taste
Putting them all together
Start by cooking the ground beef over medium heat with some olive oil, minced onions, allspice and salt Cook for at least 15-20 minutes.
If you're using canned chickpeas, rinse them and boil them for 5-10 minutes to heat them up and also remove the canned taste they sometimes have.
Reserve some of the chickpea water and drain the rest (regular hot water, or hot stock also works if you accidentally drain out all the chickpea water).
Prepare the yogurt sauce my mixing 2 tsp of lemon juice, tahini, 1 clove of garlic, and tahini to the sauce.
Toast pita bread with some olive oil and salt in a 400 degree oven for 5-7 minutes or until golden brown.
As soon as they're toasted, toss the bread with 1tsp of garlic, 3 tsp of lemon juice and splash of the hummus water until well-coated and soft (but not soggy). Gently mix in the hot chickpeas at the end to preserve their shape.
Layer the hummus, bread mixture, ground beef, yogurt and garnish with toasted pine nuts and minced parsley.
notes: Make sure no layer has excess water so that the casserole doesn't get overly soggy. You'll want to cook the meat and onions for at least 15-20 minutes for that reason – so that the liquid from the onion evaporates.
fateh (
فتة
)