I don't know what else I'm supposed to call it, but inspired by inspiration seemed appropriate. This month for A Taste of the Mediterranean we're exploring tarts. Seeing as I'm asking bloggers to submit their own variations of this French classic, I thought I'd make some myself.
mise en place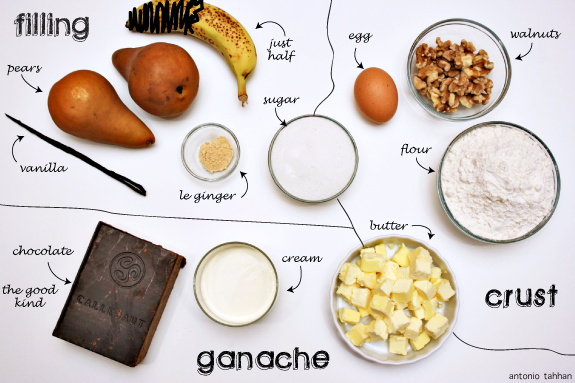 My inspiration for this post came from Fanny, who had gotten her inspiration from Pierre Herme (aka Meeta's sugar daddy). Sounds like a soap gone bad, I know, but it's all about the food here (focus, Tony). Tarts usually have two components to them: a crust and a filling (and sometimes a topping).
This crust for is made from ground walnuts and the usual suspects: flour, eggs, butter and sugar (ie. the stuff that makes desserts desserts). For the filling I decided to combine roasted pears, half of a banana, and some ginger because the combination of ginger and pears makes me happy.
Then I thought of Italy. I know, quite random (and rude) if you're making a French dessert, but I couldn't help it. Let me explain. While I was in Italy last winter I tasted this chocolate pear torte that made my taste buds swoon. I wasn't sure if I could recreate that moment in my own kitchen, but it was worth the try. In the end, my taste buds were quite happy.
mash to your heart's content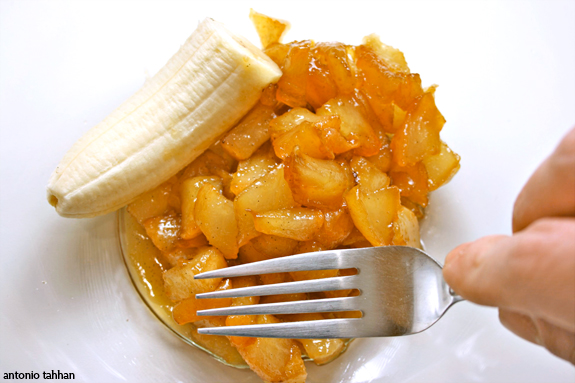 Once the pears have roasted with the vanilla bean, some sugar and ginger, it's time you bring the banana into play. In retrospect, I would use either less banana or more pears just because of how powerful the flavor of the banana could be. Also, if you're an eat-while-you-cook person like I am, I suggest you make more of this filling than you think you'll need – it's like gourmet baby food good.
upside down mini-cupcake tin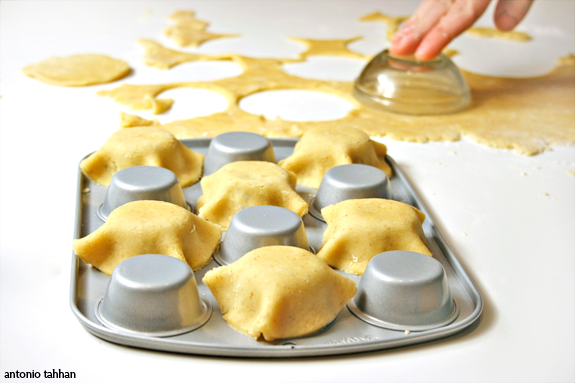 I wanted to make mini tarts, but not too mini. If I would've used the inside of the mini-cupcake tin, the tarts would have been more dough than anything else. Solution: I flipped the tin over and made use of the bottom.
scooping the roasted pear filling
The fact that the inside of the cupcake tin was too small turned out to be a good thing. Each tart ended up with a nice star design from the naturally crimped edges.
chocolate heaven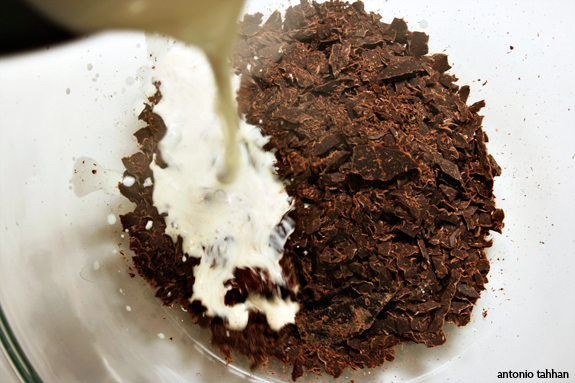 The ganache is the last, but albeit most decadent component of the entire production. I recommend anywhere from a 60% to 75% good quality chocolate for this component. Since the pears and banana are naturally sweet you'll want to look for a chocolate with natural bitterness to it in order to offset the sweetness of the filling.
a pool of chocolate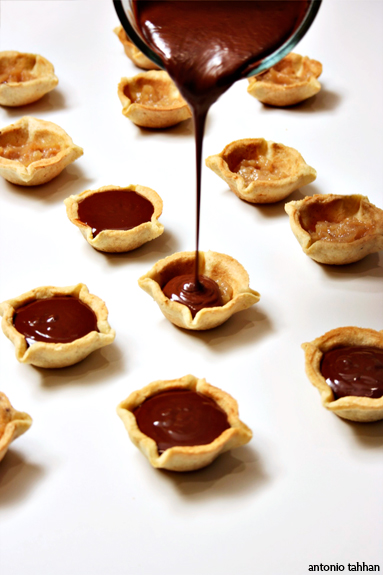 Once the hot cream melts the chocolate for the ganache, add a tablespoon of room temperature butter to the recently-ganached chocolate. This gives the tarts that shiny gloss that makes them so pretty.
ginger-infused roasted pear chocolate tarts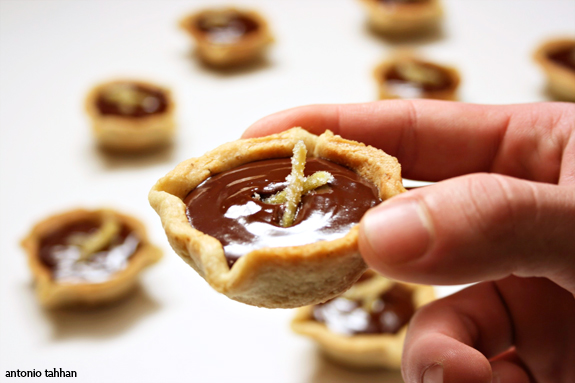 Top with a couple thin slices of crystallized ginger and you're set. I hope this has inspired you to try out your own tart concoctions at home! igourmet is ready to give a $50 gift certificate to the winning tart entry – check out more info on A Taste of the Mediterranean.
Ginger-infused Roasted Pear Chocolate Tarts
approx 18 mini tarts
Components
tart dough, replace pistachios with walnuts
3 bosc pears
1/4 cup sugar
1 tbsp water
2 tsp lemon juice
1 tsp ginger, ground
1 vanilla bean
1/2 banana
1 cup heavy cream
6 oz dark chocolate, 60-75%
1 tbsp butter
crystallized ginger for garnish
Putting them all together
Make tart dough and bake the tart shells (you can use the bottom of a mini cupcake tin or anything else you might have on hand).
Cut pears into medium-sized chunks and scatter them in a roasting pan.
Preheat oven to 450 degrees F.
Over medium heat cook the sugar and water until you get a dark amber color. Swivel the pot, but resist the urge to mix with a spoon, this will help keep the sugar from crystallizing.
Once color turns amber, add the ginger and 1tsp of the lemon juice to the hot sugar mix (be careful, it will splatter a bit) and pour over the chopped pears.
Baste the pears while they roast in the oven and remove them once they are soft and you can poke them with a knife with little to no resistance (the time will depend on how large your pieces are, approx 25-30 min).
Once they're out of the oven mash the banana and add the remaining tsp of lemon juice. Cover the mixture and allow to cool in the fridge.
To make the ganache, bring the cream to a simmer and pour over chopped chocolate. Slowly stir with a wooden spoon until all the chocolate has melted. Add one tbsp of butter at room temperature to add gloss to your ganache.
To assemble the tarts scoop some of the pear filling on the bottom of each tart. Then cover with the chocolate ganache and top with slivers of crystallized ginger for garnish.
note: Tart shells and roasted pear filling can be made a couple days in advance.
the best part about working with chocolate