أهدي هذا إلى جميع أفراد عائلتي في حلب، وأقدم شكري للجميع، خاصة خالتي كيكي، لحسن استقبالها لي أثناء زيارتي إلى حلب. ولم تغب صورة الأهل عن فكري بكل رشفة أشربها. حيث أتخيل حلب وأهلها الأحباء في ذهني، والتي لن تغيب أبد الدهر
I would like to dedicate this post to all my family in Aleppo, Syria, and extend my thanks to everyone, especially my Aunt Christine for her kind hospitality during my visit to Aleppo. With each sip of this drink I remember them in my memories, which will last forever.
My blog turned one this past Tuesday. I didn't even think I'd last this long, but sure enough, I love to eat and a few snaps from the camera never hurt anyone (except when someone, ahem ahem, tries to eat the food before it's been thoroughly photographed). All is well now; I've gotten a lot better at quickly taking the shots I need and clearing the food for consumption.  
Today I want to share a recipe that has been sitting in my back burner for a whopping 9 months now. It's for a traditional Middle Eastern drink called شراب اللوز ("sharab al loz") that is made from almonds, milk and sugar. I had it for the first time when I visited Aleppo last winter and there is no better way to put it other than, I was hooked. Nothing complicated, but in my opinion, it was the essence of unadulterated almond perfection.
start with good almonds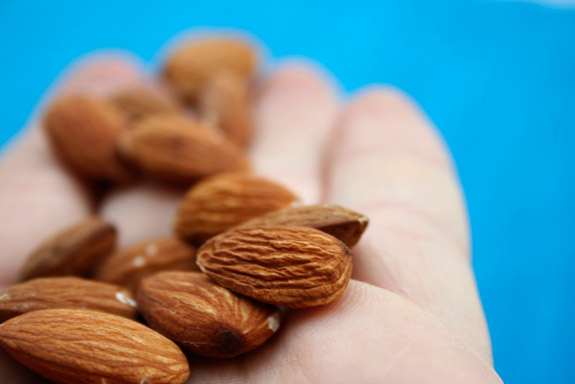 Don't think it was easy though, I worked for this recipe, very, very hard. As soon as I showed even the slightest interest in knowing how this drink was made, it was as though the whole country simultaneously suffered varying degrees of memory loss. No one was ready to divulge their secrets, but I wasn't about to give up just yet.
I had no shame; I employed the help of my cousins and we went store to store asking around for the recipe. After a while we lost track of whom we had already asked and ended up asking some people multiple times – they weren't too happy about this. Eventually we found a kind old man who sold buttons and fabrics, and with my broken Arabic I initiated a conversation with him. I think he felt sorry for me more than anything else and gave me a very basic idea of how the drink is made. I, of course, thanked him for all his help and my cousins were simply relieved they weren't on recipe duty anymore.
mise en place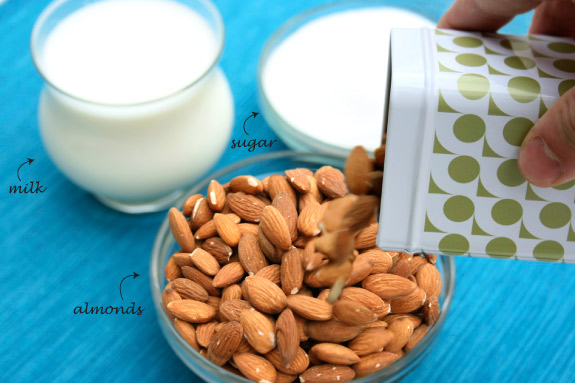 As soon as I got back to school, this was one of the stories I shared with the dean from Cornell that funded my dream research project. She thought it was odd that I had such a fascination with something that already existed in the States and was readily available at all major supermarkets: almond milk. I was intrigued, but skeptical. I never had it before. My suspicion turned out to be well-placed because the almond milk I had from the grocery store tasted like someone had soaked cardboard in water for months, processed it and finished it off with a couple drops of almond extract that tasted more synthetic than it did of almonds.
make sure there's some left for snacking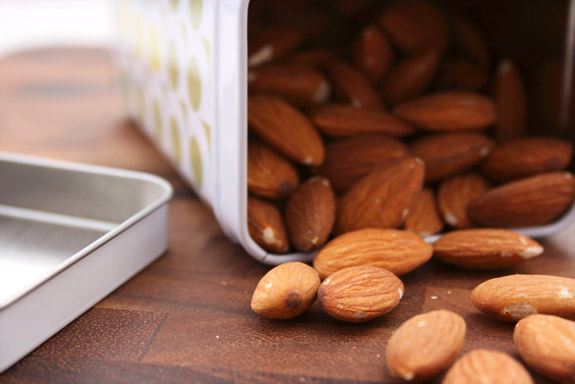 You can safely put away the cardboard for this recipe; we're using nothing but almonds here. Besides being ridiculously good for you, almonds also have the added benefits of being delicious. These are the best sorts of foods in my opinion – guiltless and tasty. 
a quick blanch in hot water makes them easy to peel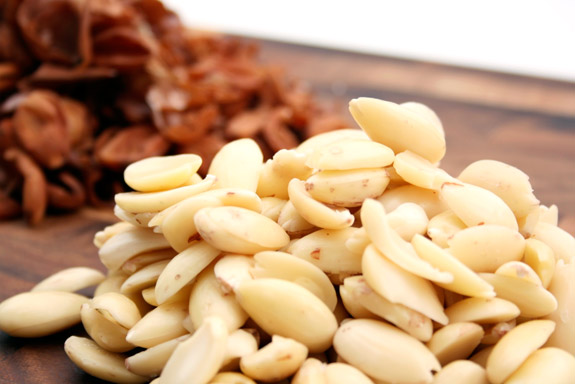 After soaking and blanching the almonds, the peels slip right off. I actually found it therapeutic, which is why I decided to add this picture. Does anyone else find other cooking processes therapeutic or is it just me? Anyway, I digress. Once you get the peels off, process everything in the blender until you get a smooth consistency (depending on the power of your blender, this may take 5-10 minutes).
sharab al-loz (شراب اللوز)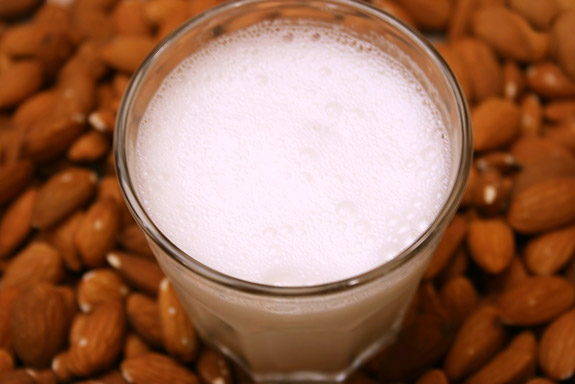 Once the mixture comes out of the blender it will be slightly thick as this is technically the base for the beverage. Keep this base in the fridge and whenever you want a glass of this frothy, almond drink all you have to do is blend it with some ice, a little more milk and saha w hana (bon appétit in Arabic).
Sharab Al Loz
serves approx. 6-8 people
Components
1/4 kg almonds
1/4 kg sugar
1/2 kg water
milk, for service
ice, for service
Putting them all together
Soak the almonds in water overnight.
Boil the almonds for 10-15 minutes and peel immediately.
While the almonds are boiling, make a simple syrup by mixing the sugar and water in a saucepan and simmering until all the sugar is melted.
Blend the peeled almonds with the hot simple syrup. Warning: be sure to vent your lid and pulse so that the hot syrup does not explode when you turn on the blender.
Blend the almond mixture for 7-10 minutes in a strong blender.
Strain the mix with a cheese cloth or a fine sieve and refrigerate until ready to serve.
Once the sharab (the base) is cooled, you can prepare the beverage by mixing 1 part sharab, to 1 part milk and a little ice. You can add more milk and ice to thin out the consistency to your liking.
Notes: If you're lactose intolerant you can try replacing the milk for some soy milk. Also, if you want to reduce the amount of sugar, honey is a great alternative.