I hate frying; and I'm sure I'm not alone when I say that I avoid frying like the plague. Don't get me wrong, I can always enjoy a hearty batch of chicken wings or a few fried calamari, just not in my (tidy) kitchen. Whenever I do fry, which is rare, I make sure that it's something completely worth the extra calories and additional cleanup at the end. These croquettes, my friends, are worth it – worth every single drop of splattering oil and all the calories in the world.
mise en place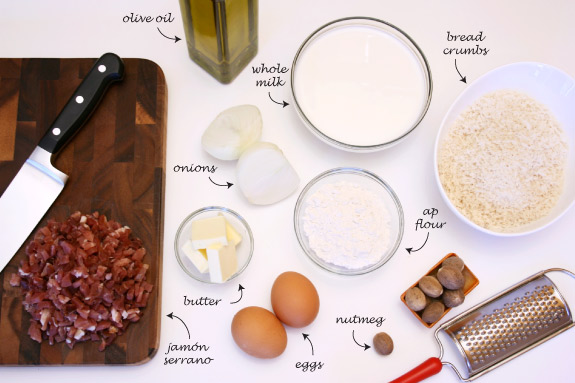 If you haven't had croquettes before, you're in for a treat. They're basically tiny nuggets of overly thick béchamel sauce that have been breaded and fried (pause: how can this not taste good?). Given its name, it seems as though the origin of this ingenious creation is French (surprise, surprise); but today they're most commonly associated with Spanish tapas. Yep, the Spanish rock these bite sized treats usually with jamón serrano or chicken (or both, thanks Núria). Of course, I opted to blog about the ones made with jamón serrano (i.e. the pork variation).
filling update (09/14): You can also try tuna or spinach, thanks Nikki; or even use up all your leftovers, thanks Joey! For some extra ham flavor, just boil your milk with a jam bone and strain it before you want to use it, thanks Núria.
jamón serrano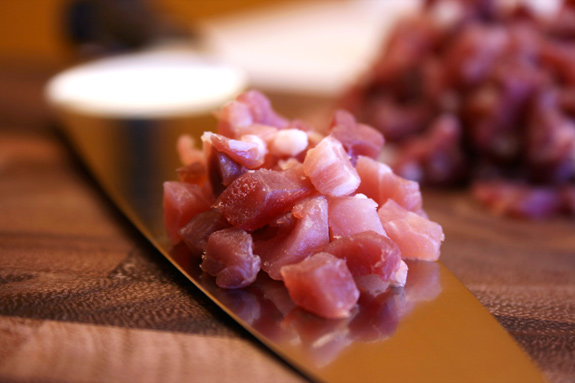 Jamón serrano is essentially Spain's version of prosciutto. It's actually one of the many varieties of cured hams native to Spain and the one most commonly used for making croquettes. If your supermarket doesn't carry jamón serrano, you could always use prosciutto or swap out the ham entirely for some chicken. Be careful though not to confuse jamón serrano with jamón ibérico, which is Spain's most prized variety of cured ham that runs between $52 and $96 a pound!
panko-breaded, ready to fry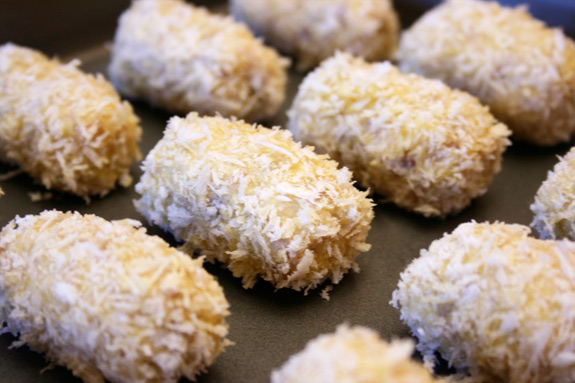 These are the croquettes (breaded and ready to go into the hot oil). I coated mine with panko bread crumbs, which are Japanese style bread crumbs that I happened to have on hand. If you're strictly going for an authentic taste and texture you should use regular bread crumbs; but either work just fine.
crunchy on the outside; rich and creamy in the inside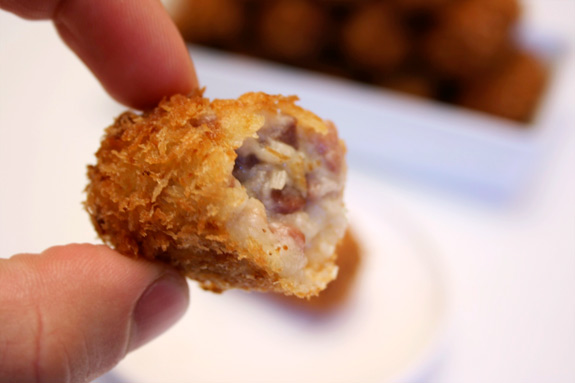 This is the moment that makes the entire process completely worth it. After frying, the creamy inside becomes incased in a crispy, golden brown layer of fried deliciousness. If there's any pearl of wisdom I can pass on to the readers of this post, it would be: beware of the extremely hot filling. It's too embarrassing to admit how many times I've burnt my tongue trying to sneak a bite of these straight from the hot oil, but let's just say I learned my lesson the hard way (multiple times).
croquetas de jamón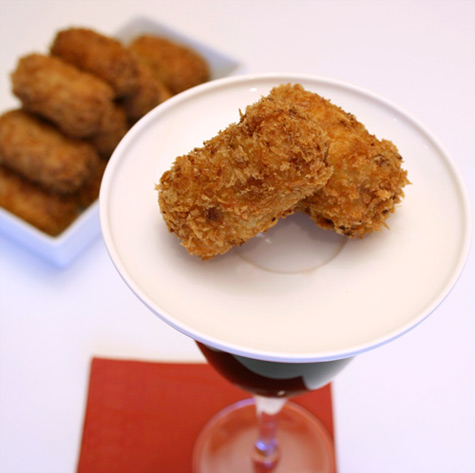 Like most tapas, croquettes are meant to be enjoyed with a glass of wine, in good company and in small portions (that's the key to getting away with eating such decadent foods). If you're craving some food trivia: the word tapas comes from the Spanish verb, tapar, which means to cover. Since tapas were traditionally served with a sweet wine at Spanish bars, people needed a way to keep flies from flying into their goblets. So bar owners started serving these small dishes called tapas for people to cover their drinks while having something to munch on – genius and definitely worth frying for!
Croquetas de Jamón
makes approx. 17-19 croquettes
Components
1/2 lb jamón serrano, finely diced
1 onion, finely diced
4 tbsp butter
50 g flour (4 heaping tbsp)
1 1/2 cups whole milk
a pinch of nutmeg
1 egg, beaten
1/2 cup flour, for breading
1 cup bread crumbs
salt & pepper, to taste
olive oil, for frying
Putting them all together
Heat up the milk on the stove or in the microwave.
In a medium saucepan, melt the butter. Add the diced onion and sweat for 3-5 minutes (i.e cook over medium low heat so that the onion remains translucent).
Add the jamón serrano and flour and cook for a couple minutes until the dough turns a golden brown color.
Gradually add the milk, making sure to stir constantly. Cook until you get a very thick dough that comes away from the pan.
Cover and refrigerate for a few hours (preferably overnight).
Form the croquettes. Bread them by coating them in flour, then egg, then rolling them in the bread crumbs.
Fry until golden brown.
notes: You could freeze them before frying to fry at a later time. Or you could also fry lots of them, freeze them and bring them up to temperature in a 450 degree oven for 10 minutes.