Right now I should be in Seattle spending quality time (i.e. karaoke-ing) with my friend Jess. Just like this past weekend I should've been in sunny southern California at Diane & Todd's blogger bash… but, no. Instead, I was informed (on my way to the airport on Friday) that my airplane would be delayed to the point that I would miss my connection. Mind you, this was the last connecting flight to southern California that evening. So, does the airline offer to put me up at a hotel for the night? Does the airline even care to compensate me in any way? No and no. I just barely got my money back from the extremely rude supervisor and had to turn around and go home.
I make it a habit not to let things to get under my skin and so I tried to have a good weekend despite all the mishaps. As is the case with most foodies, our best weekends always tend to start with a visit to the local farmer's market. I did just that.
spring colors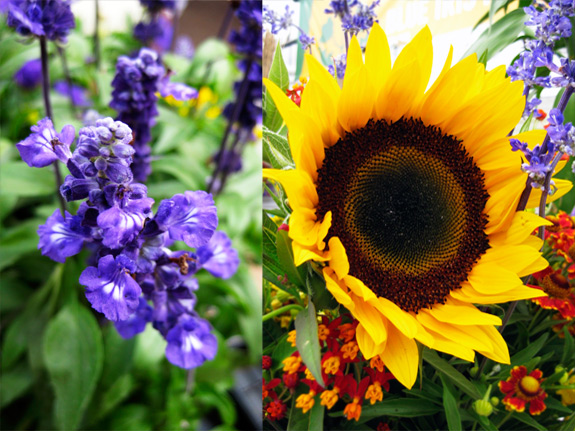 The flowers speak for themselves. Everywhere I turned there were different patterns and colors… it always baffles me how these things just grow on the ground (is this just me?).
we had our food, the bees had theirs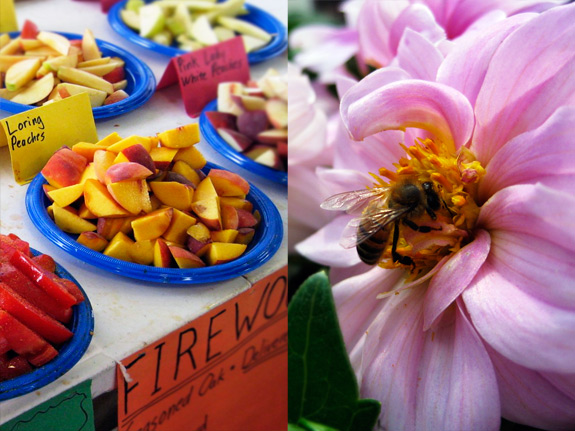 Even though I'm usually freaked out by bees (and most other flying creatures for that matter), this one looked so calm eating and minding its own bee-sniz. I opted for the other food at the market and snacked on a the wide array of fruits and heirloom tomatoes on display that day (definitely one of my favorite things about farmer's markets).
my inspiration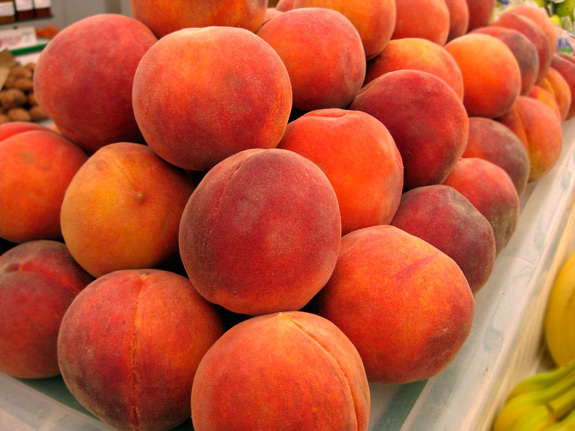 How could anyone resist? Seriously, these peaches tasted as ripe and juicy as they look. I took some home and on the metro ride thought of the possibilities. I narrowed it down to peach cobbler or peach galette and since a galette is more Mediterranean, I went with that.
mise en place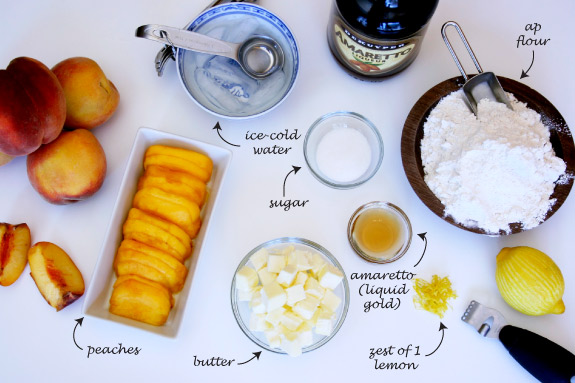 Galettes (or crostatas as they're known in Italy) are rustic looking tarts. This means no fuss with tart pans or delicately crimping edges. That's exactly what I did not need this past weekend. No; galettes are super easy and you can pretty much fill them with whatever fruit you would normally bake with.
every good dessert has butter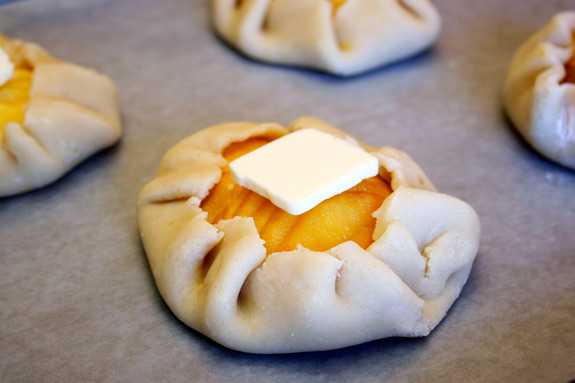 OK, so even though the crust already has a ton of butter to begin with, I just couldn't resist adding a tiny sliver on top… Since we're topping these with a sprinkling of sugar, we need something for the sugar to stick to, right? Sound logic, especially when you've been having such a crummy weekend.
peach galette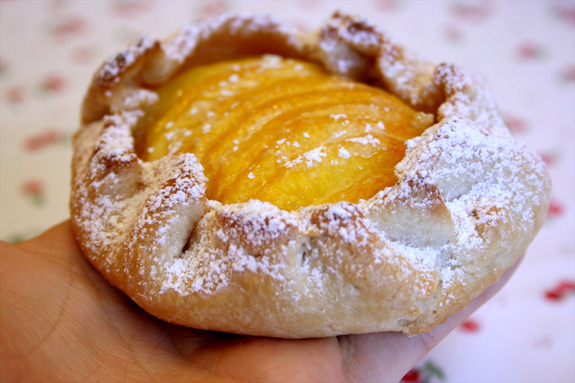 If I wasn't going to be able to see my good friends on the West coast, I was going to need a few of these tarts (3 to be exact) to cheer me up. In my defense (ahem, Adam), I did go to the gym shortly afterwards. If you haven't already tuned into Adam's blog, umm… you should. He's a foodie/health guru who allows the occasional indulgence (if executed properly, of course).
Peach Galettes
yields approx. 4-5 individual galettes
Components
225 g flour
115 g butter, unsalted (1 stick)
zest of 1 lemon
2 tbsp amaretto, chilled
2 tbsp water, chilled
1 tbsp sugar
1/2 tsp salt
half a peach per galette
slivers of butter & sugar for topping
Putting them all together
Pulse cold butter and flour in the food processor until you reach a mealy texture.
add the lemon zest, salt and sugar. Slowly add one tablespoon of liquid at a time until the dough just barely begins to come together.
Wrap dough in plastic wrap and refrigerate.
Once dough has chilled, divide it and roll out each piece to 1/4 inch thickness.
Slice peach halves and fan on top of dough. Fold edges inward to contain the peaches.
Top with a sliver of butter and a healthy sprinkling of sugar.
Bake in a 400 degree F oven for 20-25 minutes or until golden brown.
can I plant these?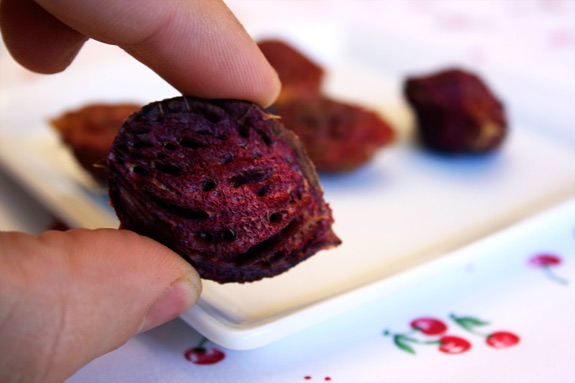 I just started gardening last month and so I'm relatively new to all this… does anyone know if I can grow a peach tree from these pits?