Food trends can make or break an ingredient's reputation. All it takes is the publication of a silly carb-less diet or the disclosed eating habits (or lack thereof) of a swanky A-lister and your favorite ingredient could go MIA – either blacklisted at most restaurants or too taboo to enjoy even in your own home. On Monday, Mark Bittman introduced a contest on his NYTimes blog, Bitten, to make a mayonnaise using the residual fat from your bacon. Before you go into a panic attack, take a deep breath and follow me. It'll be OK.
mise en place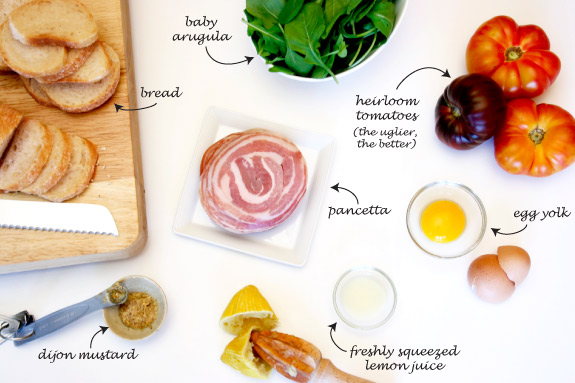 First off, since this is a Mediterranean blog, I decided to revisit the idea of a BLT using med-inspired flavors. No monstrous portions here, either. I chose to make pancetta, arugula & tomato crostini and used the fat from the pancetta for the mayo.
pancetta + pancetta fat: waste nothing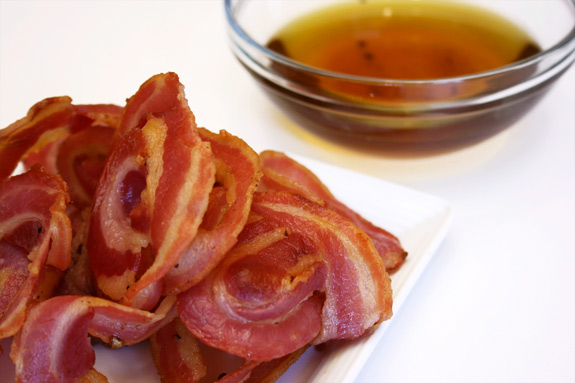 Right from the beginning you're getting double use out of your pancetta. The fat has a distinct, almost nutty, flavor that you won't be able to achieve any other way. If you're still having qualms about the pancetta fat, just see it as being resourceful and putting everything to good use.
spread the love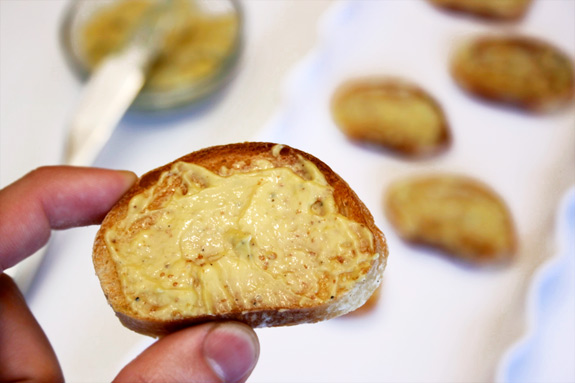 The mayonnaise is wonderful and nothing like what you would find in a jar – not even close for that matter. The pancetta flavor is bold and pairs well with the subtle undertone of the dijon. The egg brings everyone together and the lemon takes care of any heaviness you might've been worried about. It's a well-executed team effort.
Pancetta, Arugula, Tomato Crostini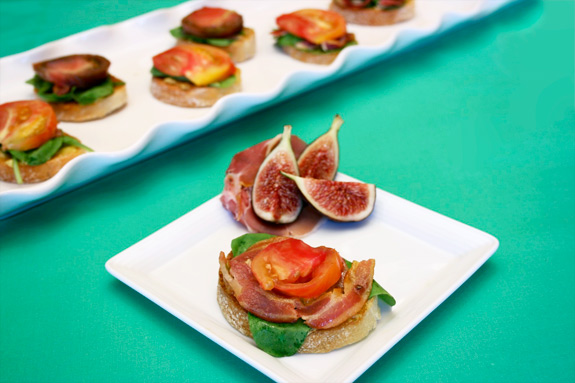 The size of this dish is deliberate. It agrees with the philosophy that everything in moderation is acceptable. Granted, these crostini in no way constitute a full meal, nor are they meant to; but if you're in the market for an afternoon snack or an antipasto to enjoy with your friends and family, you've got yourself a winner. Break open a bottle of wine and enjoy life.
Pancetta Mayonnaise
yields about 1/2 cup
Components
1 egg yolk
3/4 tsp dijon mustard
1 tsp lemon juice, freshly squeezed
salt & pepper, to taste
1/2 cup liquid pancetta fat, room temperature
Putting them all together
Combine egg yolk, dijon mustard, lemon juice, salt and pepper in a small food processor or a blender and pulse until well combined.
While the machine is on, gradually drizzle in the fat until the mixture stiffens and you reach an emulsion. At this point you may add the fat a little more quickly.
If your mayonnaise is too thick, blend in 1 tsp of boiling water to thin it out.
adapted from Fat: An Appreciation of a Misunderstood Ingredient, With Recipes
notes: To make the crostini, toast slices of baguettes or ciabatta until golden brown. Spread a thin layer of the mayonnaise on each and top with baby arugula leaves, crisp pancetta and heirloom tomatoes.