What's with all the lies? No, it's more than just a lie, it's a conspiracy. Parents pass it on to their kids, who in turn pass it on to their little ones, who just don't know any better. The lies stop here my friends. I am nipping this one in the bud: when life supposedly hands you your lemons, don't make lemonade. Instead, make some حامض مرقد.
life's lemons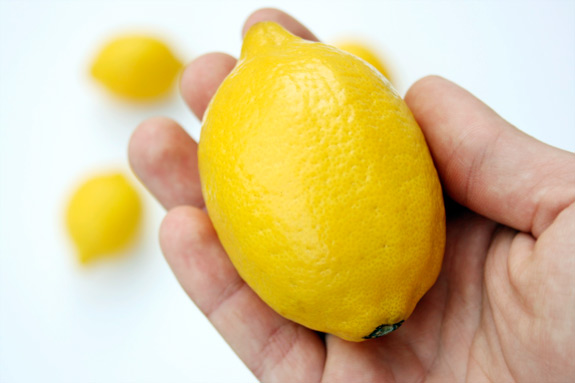 Keep reading; it's a lot easier than it sounds (if you could sound that out). In English, حامض مرقد, sounds something like ha-moud ma-rak-ad; which literally means sleeping lemons in Arabic. Before you call me crazy (and probably go make yourself another batch of lemonade) I'd like to remind you of the fable of the ant and the grasshopper.
mise en place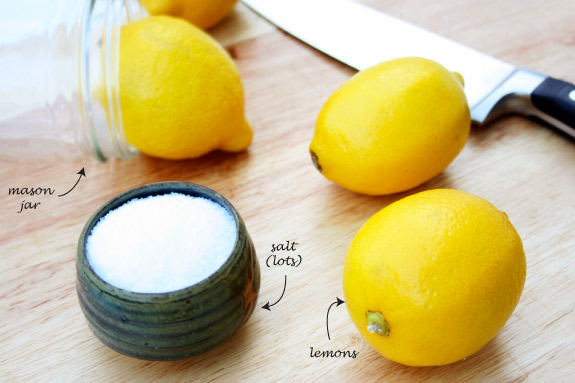 The classic fable tells the story of a lazy grasshopper who spends his summer singing away while a dedicated little ant works hard to gather food for the upcoming brutal winter. When winter strikes, the grasshopper ends up hungry and begs his tiny friend to share some of his food. The moral of this fable lends itself perfectly to my humble post on this Moroccan staple.
lemon blossoms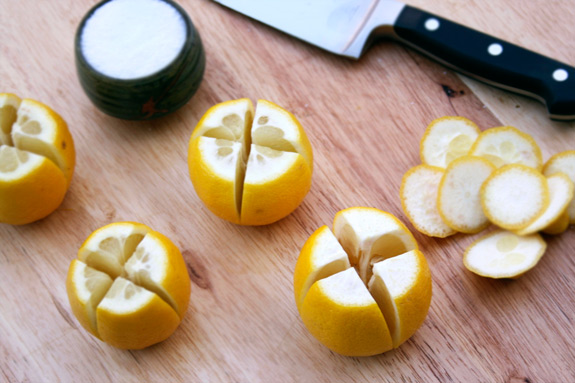 See, in Morocco, it's traditional to preserve lemons in order to use them later in tagines, soups, stews… pretty much anything that you want to give flavor to. Since I love making all these hearty dishes in the winter, I make my hamoud m'rakad now, as in 3 months before winter hits. This stuff lasts forever (i.e. 6-8 months) and the process couldn't be easier. All it is are lemons that have been packed with salt and stuffed into an airtight jar. Seriously, that's it.
hamod m'rakad (حامض مرقد)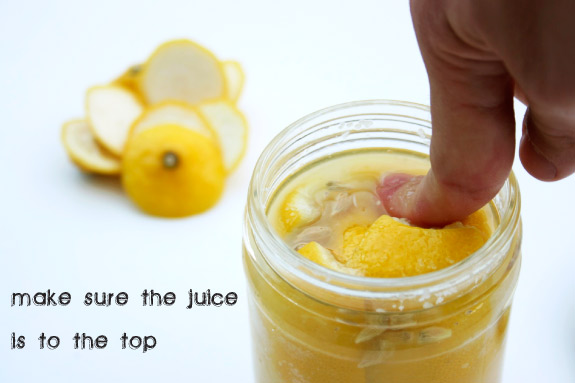 When you're ready to use the lemons; take out a piece, rinse off the excess salt, and finely chop it into whatever you're cooking up that evening. The flavor it imparts brings a unique citrusy component to the dish. It's lemony, and tart and perfect in every single way. So, next time you're going to make some lemonade, set a few lemons aside to make a jar of حامض مرقد you won't regret it!
Preserved Lemons
yields approx. 4 lemons
Components
4 small lemons
1/3 cup kosher salt
lemon juice
Putting them all together
Rinse and dry lemons.
Barely slice off both ends so that only the pith is showing (not the flesh).
Slice the lemon horizontally and vertically making sure not to reach all the way to the bottom. The lemon will resemble a flower at this point.
Sprinkle a little salt at the bottom of the jar and then stuff each lemon with the rest. If there is any leftover salt, you can pour it on top.
Strategically fit as many lemons as possible into the jar and make sure the lemons are covered with juice to prevent spoilage. You may want to add extra lemon juice if the lemons you used haven't given off enough juice.
Store in a cool dark place for 6-8 weeks (in warm weather, you may want to store it in the fridge).
To use, rinse lemon wedge(s) in water to remove excess salt. Discard the flesh and chop the rind finely into the dish.
notes: Use the smallest lemons you can find for this dish. The liquid will be cloudy at first, but it will clear up by the 5th or 6th week. You'll know that the lemons are ready to use once the pith has lost its white color. You can also add different flavors to your preserved lemons by adding peppercorns, whole cloves, whole coriander seeds, or bay leaves to the jar (try to add any spices closer to the sides of the jar so you can identify the spices by looking at the jar weeks later).