This entry is dedicated to all Daring Bakers for making the challenges and the group itself lots of fun!! Special thanks to Morven for hosting this month's challenge.
At first I was a bit skeptical about this cake challenge since it was pushing me far away from my culinary comfort zone. The horror stories I grew up around were terrifying enough – threatening all of us about how even granules of sugar in either direction can ruin the precise scientific integrity of a cake. However, when I got around to reading this month's challenge in further detail I realized that the possibilities for executing the cake were literally endless; so I took on the daring baker attitude and approached the task with an open mind (and a chocolate heart).
mise en place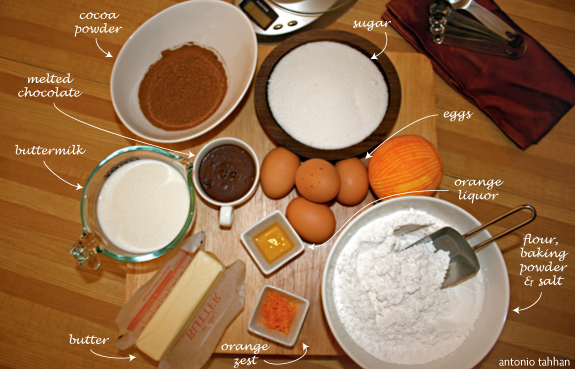 In order for the cake flavors to go well with the newly introduced chocolate, I made some minor changes in the flavor department by substituting the lemon zest with orange zest and the lemon extract for orange liquor. The chocolate-orange combo is a classic and was fantastic in the cake. Otherwise, I prepared the cake as intended and folded the chocolate additions towards the end.
and the chocolate makeover begins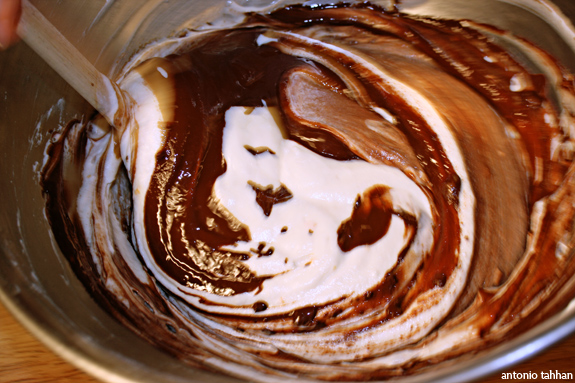 Once the chocolate batter was complete, I baked the cake for only 8-10 minutes because I used a sheet pan rather than the 9" cake rounds (which I don't own).
Since this was my first Daring Baker Challenge, I wanted to make these cakes extra special by decorating them with piped chocolate designs. They're a lot easier to make than they seem and they add a nice touch to the finished product. All it is, is melted chocolate piped onto a chilled sheet tray lined with parchment paper.
pretty chocolate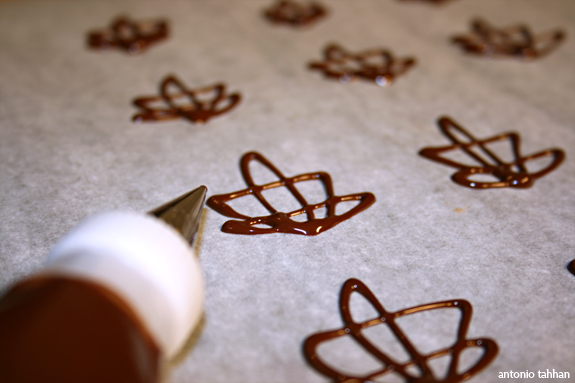 I was not too happy with the way my buttercream turned out, but that may just be the psychological side effect of knowing that there were 3 sticks of butter in it. Once all the pieces were ready, I assembled everything into individual cakes and covered each with a thin layer of fondant for decoration.
Perfect Party Cake
modified from Dorie Greenspan's recipe
For the Cake
Components
2½ cups, cake flour
1 tbsp. baking powder
½ tsp. salt
1¼ cups buttermilk
4 large egg whites
1½ cups sugar
2 tsp. grated orange zest
½ tsp. orange liquor
2.5 oz. cocoa powder (Scharffen Berger)
3 oz. melted chocolate (Scharffen Berger)
¼ cup hot water
Putting them all together
Butter a 17in x 11in baking sheet and preheat oven to 350 degrees F.
Sift together flour, baking powder and salt.
Beat egg whites and sugar in a medium bowl. Mix together sugar and orange zest in another bowl.
Cream butter and sugar and add orange liquor.
Mix in 1/3 of the dry ingredients followed by ½ of the wet ingredients and continue adding in an alternating fashion until everything is incorporated.
Mix together melted chocolate, cocoa powder and boiling water and fold into cake batter.
Bake for 8-10 minutes or until a toothpick comes out dry.
For the Buttercream
Components
1 cup of sugar
4 large egg whites
12 oz. unsalted butter, at room temperature
¼ cup fresh lemon juice
1 tsp. vanilla extract
Putting them all together
Whisk sugar and egg whites over a double boiler for 3 minutes, until hot to the touch.
Remove from double boiler and continue whisking until slightly cooled, approximately 5 minutes.
Add butter one stick at a time, beating until smooth before adding the next.
On medium speed slowly add the lemon juice and continue beating until glossy and well incorporated, approximately 6-10 minutes.
Add the vanilla extract and set aside until ready to use.
For Finishing
Components
2/3 cup seedless raspberry preserves
melted chocolate for designs
fondant for covering
Putting them all together
Stir raspberry preserves vigorously or warmed gently until spreadable.
Make chocolate designs by piping melted chocolate onto a chilled baking sheet lined with parchment paper.
Cover with ready-made rolled fondant.
cakes are meant to be eaten