I still remember the day I stumbled upon the Daring Bakers. Do you? I thought it was odd. Why did everyone all of a sudden decide to blog about French bread? And why were they all using Julia Child's recipe? I was sure I had found some sort of freaky food cult, but there was no way around it. Every blog, every comment, everyone was going on and on about these breads. It was like being the new kid in school all over again; only this time all the cool kids were talking about food & baking.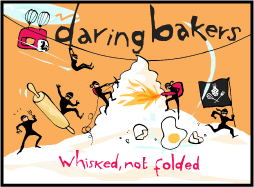 This is my 6th month now as a Daring Baker and I got to cohost the August challenge with the amazing Meeta from What's for Lunch Honey. She took me under her wing a few months ago and we immediately started scouring cookbooks for the ultimate recipe.
mise en place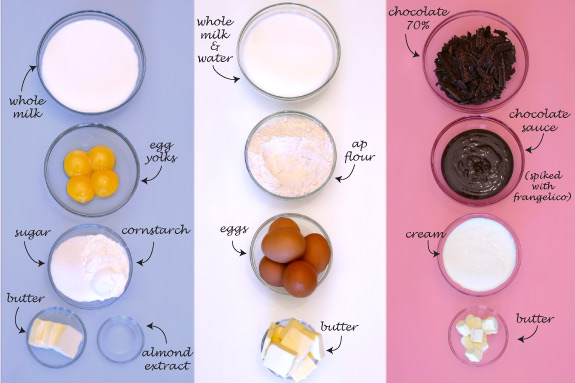 We began by brainstorming via e-mail and quickly settled upon an eclaire recipe from Meeta's sugar daddy, and king of French pastries, Pierre Hermé. This was great since I had never made éclairs, but consider myself a professional éclair eater. Of course, the best part of any challenge is modifying the recipe and having the complete Culinary Freedom to bake whatever you want. I decided to make profiteroles (ie tiny, round éclairs), filled with an almond pastry cream, glazed with a hazelnut chocolate glaze and topped with finely chopped pistachios. Here is how it all went down:
choux dough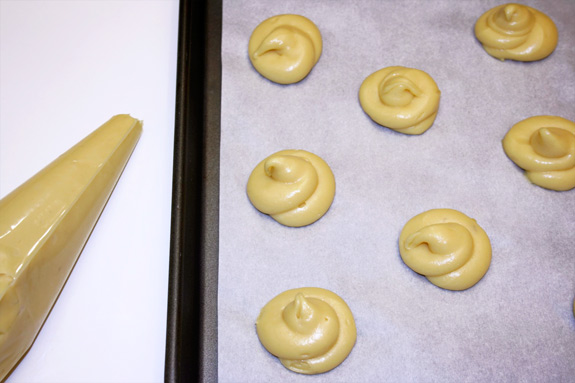 Choux dough is extremely easy to make, to my surprise. French pastries don't exactly have the best reputations for being the ones you could whip up in no time. But for this dough there is no worrying about cold butter or overworking the gluten by stirring it for mere seconds. Nope, all this is left behind when entering choux paradise. Once these babies puff up in the oven, you've got yourself an empty canvas perfect for filling with whatever your foodie heart desires.
profiterole work flow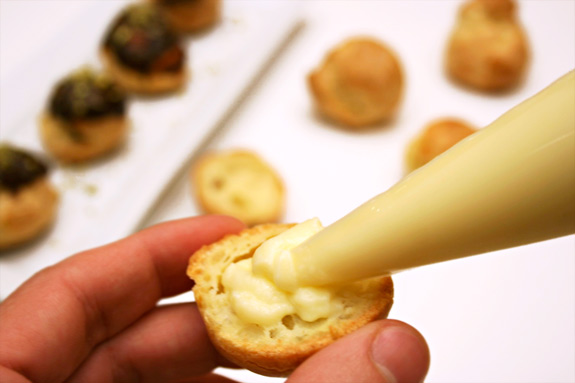 I opted for an almond-infused pastry cream, and let me tell you: this pastry cream could be a dessert on its own. I had no problems eating it straight from a spoon as the profiteroles were baking away in the oven. Eventually, though, I had to exercise self control in risk of not having enough filling for the pastries. Next time, I'm doubling the the recipe for the cream – mark my words!
triple nut profiteroles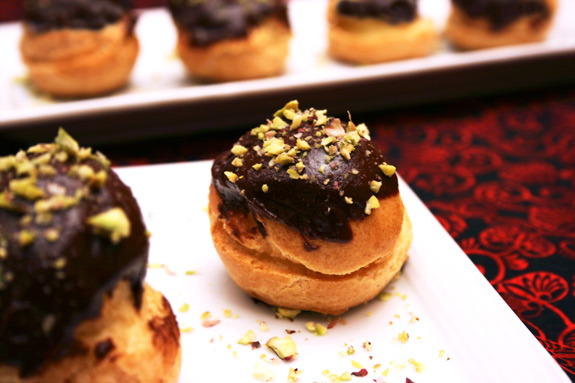 I've got to hand it to the French – they know exactly what they're doing when it comes to cuisine (especially pastries). I will definitely be making these again in the near future.
I want to send a big thank you to all the Daring Bakers who joined us this month in baking eclairs! Finally, I also want to send a big hug to Natalie of Gluten A Go Go and Helen of Tartelette for helping us tackle any choux questions and offering their pearls of wisdom on how to achieve eclair bliss.
Almond Profiteroles
makes approx. 35-40 profiteroles
adapted from Chocolate Desserts by Pierre Hermé
Components
900 g almond infused pastry cream
pâte à choux
1 cup hazelnut chocolate glaze
finely chopped pistachios
Putting them all together
Pipe choux dough onto a parchment-lined baking sheet and bake at 375 degrees F for 25-30 minutes or until golden brown and dry.
With a serrated knife gently slice open each profiterole and pipe pastry cream into the bottom half.
Replace cover, drizzle with hazelnut chocolate glaze and top with finely chopped pistachios.
notes: The individual recipes are posted under "Read more…"
made to be eaten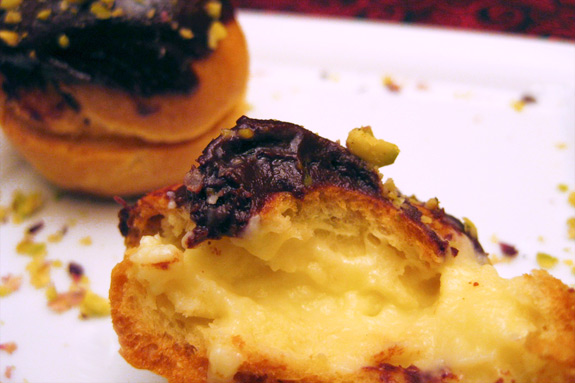 Almond Pastry Cream
makes 2 1/2 cups or 900 g
adapted from
Chocolate Desserts by Pierre Hermé
Components
2 cups (500 g) whole milk
4 large egg yolks
6 tbsp (75 g) sugar
3 tbsp cornstarch, sifted
2 1/2 tbsp (40 g) unsalted butter, at room temperature
1/2 tsp almond extract
Putting them all together
In a small saucepan, bring the milk to a boil. In the meantime, combine the yolks, sugar and cornstarch together and whisk in a heavy-bottomed saucepan.
Once the milk has reached a boil, temper the yolks by whisking a couple spoonfuls of the hot milk into the yolk mixture. Continue whisking and slowly pour the rest of the milk into the tempered yolk mixture.
Strain the mixture back into the saucepan to remove any egg that may have scrambled. Place the pan over medium heat and whisk vigorously until the mixture returns to a boil. Continue whisking for 1 to 2 more minutes (still over medium heat).
Scrape the pastry cream into a small bowl and set in an ice bath to stop the cooking process. Make sure to continue stirring occasionally so that you end up with a smooth cream.
Once the cream has slightly cooled, slowly begin to add the butter in three or four installments and then add the almond extract.
Cover with plastic wrap and store in the fridge until ready to use.
notes: The pastry cream can be made 2-3 days in advance and stored in the fridge.
Chocolate Glaze
yields approx. 1 cup or 300 g
adapted from
Chocolate Desserts by Pierre Hermé
Components
1/3 cup (80 g) heavy cream
3 1/2 oz (100 g) bittersweet chocolate, finely chopped
4 tsp (20 g) unsalted butter, at room temperature
7 tbsp (110 g) Chocolate Sauce, warm or at room temperature
Putting them all together
In a small saucepan, bring the heavy cream to a boil. Remove from the heat and slowly begin to add the chocolate, stirring with a wooden spoon or spatula.
Stirring gently, add the butter, piece by piece followed by the chocolate sauce.
notes:
If the chocolate glaze is too cool (i.e. not liquid enough) you may heat it briefly in the microwave or over a double boiler.
It is best to glaze the éclairs after the glaze is made, but if you are pressed for time, you can make the glaze a couple days ahead of time, store it in the fridge and bring it up to proper temperature (95 to 104 degrees F) when ready to glaze.
Chocolate Sauce
makes 1/2 cup or 250 g
adapted from
Chocolate Desserts by Pierre Hermé
Components
2 1/4 oz (65 g) bittersweet chocolate, finely chopped
1/4 cup (60 g) water
2 tbsp hazelnut liquor
2 tbsp Nutella
1/4 cup (125 g) crème fraîche, or heavy cream
2 tbsp (25 g) sugar
Putting them all together
Place all the ingredients into a heavy-bottomed saucepan and bring to a boil, making sure to stir constantly. Then reduce the heat to low and continue stirring with a wooden spoon until the sauce thickens.
It may take 10-15 minutes for the sauce to thicken. It is complete once you can run your finger through the back of the spoon and the chocolate stays separate.
notes:
You can make this sauce ahead of time and store it in the refrigerator for two weeks. Reheat the sauce in a microwave oven or a double boiler before using.
This sauce is also great for cakes and tarts.
Pâte à Choux
makes 35-40 profiteroles
adapted from
Chocolate Desserts by Pierre Hermé
Components
1/2 cup (125 g) whole milk
1/2 cup (125 g) water
1 stick (115 g) unsalted butter, cut into 8 pieces
1/4 tsp sugar
1/4 tsp salt
1 cup (140 g) all-purpose flour
5 large eggs, at room temperature
Putting them all together
In a heavy-bottomed medium saucepan, bring the milk, water, butter, sugar and salt to a boil.
Once the mixture is at a rolling boil, add all the flour in at once, reduce the heat to medium and start to stir the mixture vigorously with a wooden spoon. The dough will come together quickly. Continue stirring until the dough is smooth, dry and has come away from the pan (2-3 minutes).
Transfer the dough into the bowl of a mixer fitted with a paddle attachment (you can also continue by hand). Let the dough cool while mixing on low for a couple of minutes so that the eggs do not scramble.
Once the dough has slightly cooled, begin to add the eggs one at a time. The dough will separate in the beginning, but it should come back together after the 3rd or 4th egg.
While the dough is still slightly warm, scoop it into a piping bag to beginning piping the éclairs or profiteroles.
notes:
Once the dough is made you need to shape it immediately.
You can pipe the dough and freeze it. Simply pipe the dough onto parchment-lined baking sheets, and freeze. Once the dough is completely frozen, transfer the piped shapes into a freezer bag and store for up to 1 month.