It's getting close to graduation and I can't get myself to start packing all my food stuff for the big move this Sunday. Each time I told myself to focus and pack, my ADD kicked into high gear and the cardboard boxes and bubble wrap took a back seat to my distractions. Yesterday I decided to procrastinate with good taste and make wine-braised mushrooms with a goat cheese and mascarpone topping. What, what? I still have 4 more days until the parental unit gets here and starts complaining about how unproductive I've been this past week.
mise en place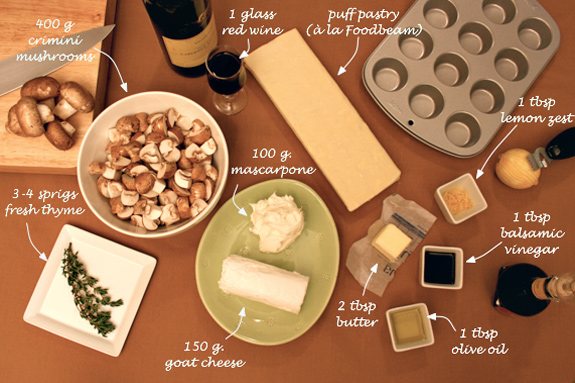 Anna, my host mom from Italy (and my friend Francesco's actual mom), came a week early to spend time in Ithaca before the big day. Since I'm a believer that not every dinner party has to be an 8-course, 20-guest ordeal, I called up Francesco and invited him and his mom over for some wine and appetizers. I made her biscotti recipe and whipped up a batch of my wine-braised mushroom cups.
simple/cute puff pastry cups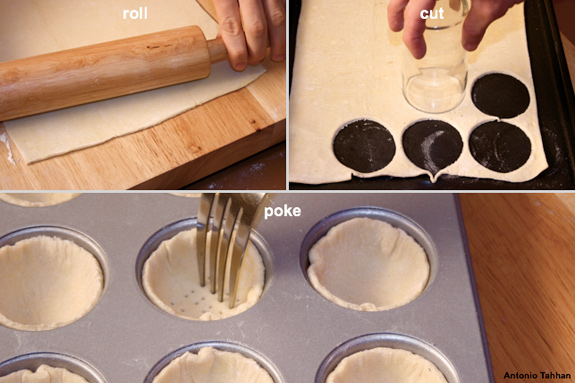 Puff pastry is key for this appetizer; and if you haven't already discovered Foodbeam, Fanny offers a brilliant step-by-step crash course on this classic French dough. Can you make do using the store-bought stuff? I guess. But only if your foodie conscience actually allows you to pick up the pre-packaged dough that has been sitting in the frozen isle of your local grocery store for who knows how long and has been stamped with a generic 2-year window of expiration… sigh.
Braising the mushrooms is a walk in the park. All you have to do is sauté them over high heat, deglaze the pan with balsamic vinegar and red wine, and lower the heat until most of the liquid evaporates.
Wine-Braised Mushroom Cups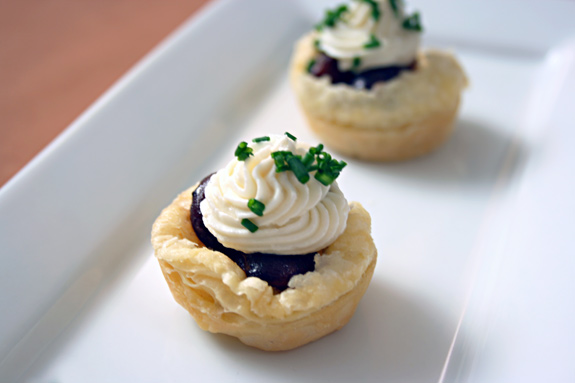 Braised Mushroom Cups
(yields approx. 24 cups)
Components
1 lb. crimini mushrooms, de-stemmed
2 tbsp butter
1 tbsp extra virgin olive oil
2 tsp. fresh thyme
1 clove garlic, minced
1 tbsp. balsamic vinegar
300 ml wine (1 small glass)
300 g. puff pastry
150 g. goat cheese
100 g. mascarpone cheese
zest & juice of 1 lemon
chives, for garnish
Putting them all together
Sauté mushrooms over high heat with butter, olive oil, thyme and garlic for about a few minutes until browned.
Deglaze the pan with balsamic vinegar and wine and lower heat to medium until most of the liquid has evaporated (apprrox. 25 minutes) and set aside.
Cut out circle rounds of puff pastry and bake in a mini muffin tin to make the individual cups (poke holes before baking to prevent excessive puffing).
Mix the cheeses, lemon zest and lemon juice for the topping.
Scoop a few mushrooms into each cup and top with the lemon-infused cheese mixture. Garnish with chopped chives and serve.
la dolce vita: sharing good food with friends and family