Special thanks to Elle of Feeding My Enthusiasms and Deborah of Taste and Tell for hosting this month's cheesecake challenge from Jill O'Connor's cookbook, Sticky, Chewy, Messy, Gooey.
For me, cheesecakes fall under the small category of mystical foods. It might just be my over-indulging tendencies, but it seems like I can never say no to a slice of heavenly cheesecake, no matter how full I am. Of course, in order to make myself feel better before taking part in one of the seven deadly sins, I always preface my request by asking for a tiny slice (adding more and more diminutive adjectives relative to how stuffed I feel at the moment).
This is my second challenge for the Daring Bakers and, at first, I was ambivalent at the idea of making cheesecake. Upon reading the challenge, two annoying voices consumed my thoughts – one asked me to double the recipe while the other insisted that I halve it. Of course, there was no getting past the evil snicker behind the little devil persuading me to double it, so I fought my temptation and decided to half the recipe.
As a college student, I cut corners wherever I can. In fact, I'm the student who will buy used text books not to get extra booze money, but rather to buy myself Crate & Barrel's hottest serving platters. By admitting to my (sad, but true) weakness, I hope you will all understand why I had to cut out the middle stick: buy me!
mise en place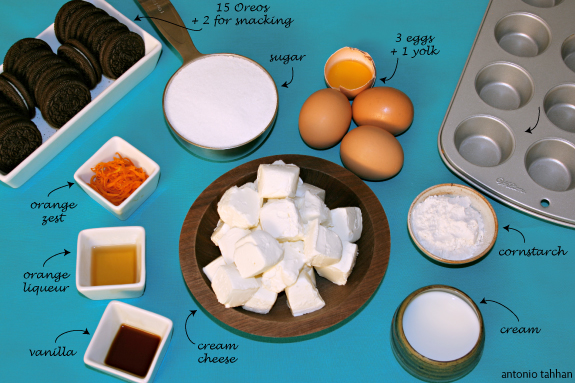 When I was given the liberty to create my own flavor combination (so long as I preserved the basic recipe) I started imagining a whole range of possibilities and decided to go with the classic orange-chocolate duo. The chocolate, of course, is brought to you by yours truly, the ubiquitous Oreo cookie.
3-step mini Oreo crusts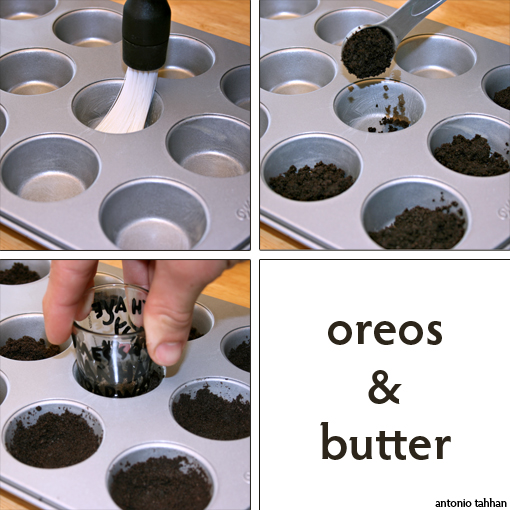 Muffin tins are one of my favorite pans because they lend themselves perfectly for a variety of hors d'oeuvres (e.g. tapas), desserts or other tiny edibles. They also drastically cut down baking time, which I'm always a fan of.
candied orange zest on top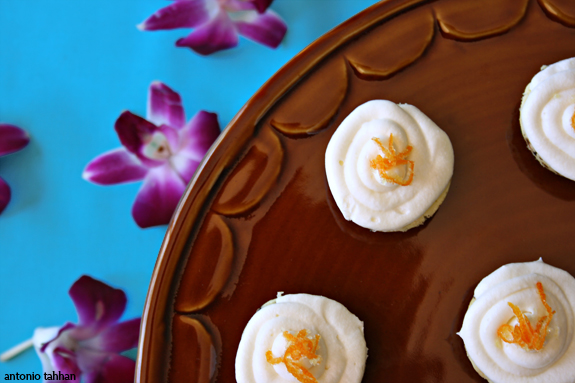 After inverting them, I decided to garnish each cup with a basic cream cheese frosting (1 part cream cheese, 1 part powdered sugar, 1/4 part butter, dash of pure vanilla) and sugared orange zest. To make the sugared orange zest, all you have to do is rub the zest of an orange with some sugar until the sugar turns orange and the air around you begins to smell like an orange grove.
Cheesecake Cups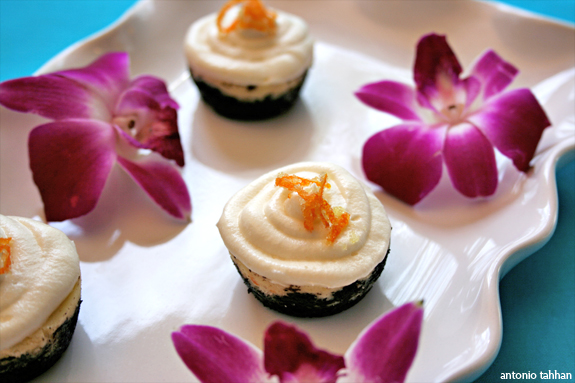 Cheesecake Cups
(adapted from Jill O'Connor's recipe)
(yields approx. 24 cups)
Components
2.5 8-oz. packages cream cheese
1 cup sugar
2 tbsp. all-purpose flour
pinch of salt
3 medium eggs
1 egg yolk
1 tsp. pure vanilla extract
2 tbsp. heavy cream
15 Oreo cookies
4 tbsp. butter, unsalted
Boiling water, as needed
Putting them all together
Preheat oven to 325 degrees.
Melt butter and set aside to cool. Use some of this butter to butter your mini muffin tins.
Crush Oreo cookies and mix with melted butter. Add one heaping teaspoon to each cup and compact with your favorite shot glass.
Process all the ingredients (at room temperature) in a food processor until smooth.
Fill each cup and bake in a water bath for 10-15 minutes. They should be slightly jiggly.
Run a knife around the edges, cover with plastic wrap and store in your freezer until ready to decorate.
Decorate with your favorite Cream Cheese Frosting and top with sugared orange zest.