This entry is dedicated to Anna (Grazie Cosmos), my host mom from Florence and Queen of Tuscan Cuisine: Grazie di tutto l'aiuto che mi hai dato in cucina e di tutte le meravigliose ricette che hai condiviso con me.
Biscotti, literally translated, means twice-cooked in Italian. This crunchy confection of sheer goodness formed a significant part of my diet while I was in Florence this past winter. Undoubtedly, it is a cookie worth blogging about.
Upon my arrival, my host mom had prepared what seemed like an endless batch of her signature almond biscotti, piled them high in a bowl and set them on the kitchen counter for me to snack on. Soon after, the bowl had become a rite of passage for me as I was incapable of making it in or out of the kitchen without munching on one and grabbing a couple for later. Each time reassuring myself with the blissful nutritional fact that these addicting cookies contain no butter and are packed full of health benefits. At any rate, the seemingly endless supply quickly dwindled to a mere dozen. That very morning (no joke), my host mom noticed the depleted supply and immediately insisted on whipping me up another batch. Of course, I couldn't refuse, so I rolled up my sleeves and offered to help.
Making biscotti with Grazie Cosmos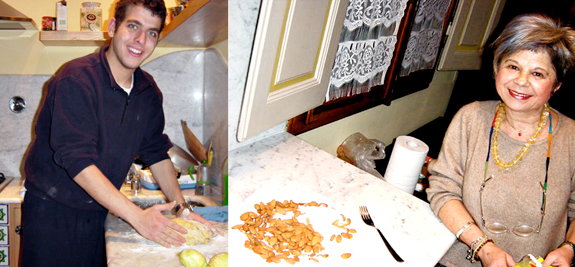 Anna's expertise was obvious and quite impressive as she confidently poured the ingredients out onto the counter without hesitation or measuring utensils. She reassured me that after hundreds of batches I'll begin to get the hang of it; in the mean time I've resorted to my awesome kitchen scale for incredible precision each time.
the well method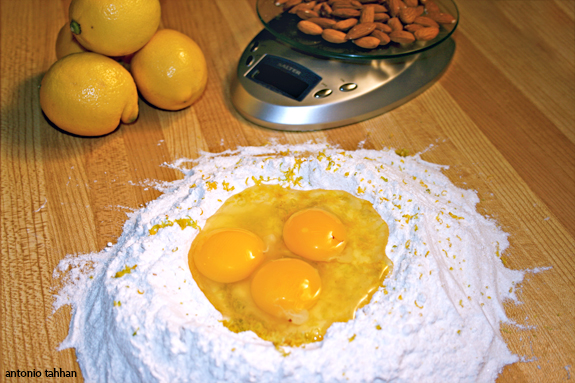 The well method pops up everywhere in cooking and quite frankly, I'm a huge fan. Anything that gifts me with one less dish to wash is a blessing. Plus, it rewards you with the distinct sense of authenticity that you'll appreciate in each bite of your homemade biscotti. Definitely well worth the messy hands!
logs of dough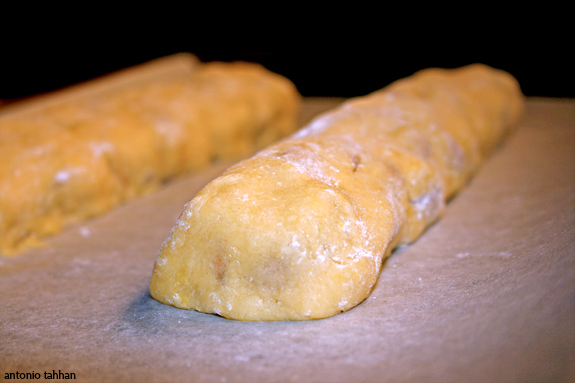 Once your dough comes together into a smooth ball, you're set. Shape the dough into two long logs and bake until they are firm enough to slice (approx. 12-14 minutes). Slicing them right out of the oven is easiest, and a serrated knife makes your task a synch. Bake them a second time for 7-9 minutes and prepare yourself for some obsessive biscotti consumption!
biscotti con café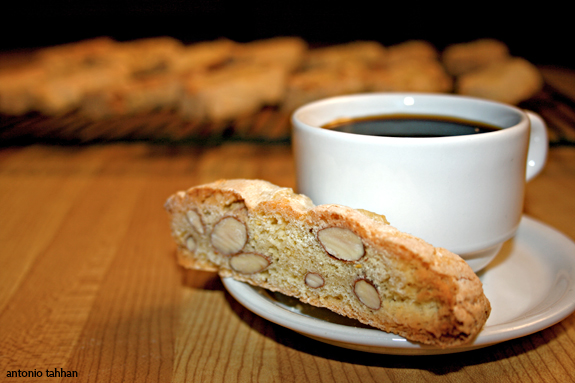 One of the great qualities these biscotti share is their remarkable versatility. Pairing them with a hot cup of joe is considered perfection for many of us, but these cookies go well with almost anything. Tuscans traditionally enjoy these biscotti with a glass of vin santo, an Italian dessert wine, to accentuate their sweet flavor.
biscotti con latte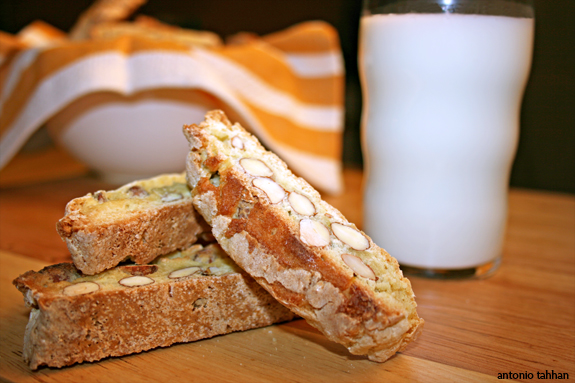 For me, a handful of biscotti and a tall icy glass of milk is my favorite way to start my day (continue my day, and end my day, too). The kid in me wouldn't have it any other way besides dunking – so dunk I did. It was not a trivial skill to acquire as any seasoned dunker can easily attest to. Prolong your dunk and the structural integrity of the cookie is compromised, but withdraw prematurely and the mission fails. Let me part with some words of encouragement for the aspiring dunker: clear your calendar, double the recipe and let your inner-child dunk.
biscotti alle mandorle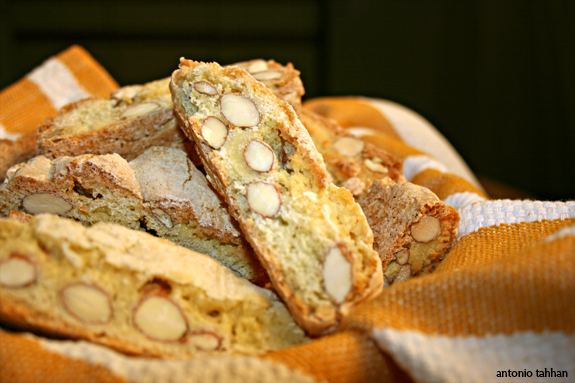 Biscotti alle Mandorle (Almond Biscotti)
(yields approx. 24 cookies)
Components
275 g flour, approx 2 cups
225 g granulated sugar, approx 1 cup + 2 tbsp
zest of 2-3 lemons
1 tsp. baking powder
pinch of salt
1 tsp anise, ground (optional)
200 g raw almonds, approx 1 1/3 cups
3 eggs
Putting them all together
Preheat oven to 350 degrees F.
On a clean work surface create a well by mixing together the flour, sugar, baking powder, salt and lemon zest.
Add the eggs to the center of the well, and slowly mix them into the dry ingredients. Once the mix begins to resemble a dough, add the almonds and shape into a smooth ball.
Shape into two long logs and bake for 12-14 minutes or until firm enough to slice. While hot, slice the logs horizontally (best with a serrated knife) to form mini-biscotti.
Bake again for 7-9 minutes or until golden brown around the edges.
Note: This is a very sticky dough. Make sure to have some extra flour on hand to form the dough into logs.