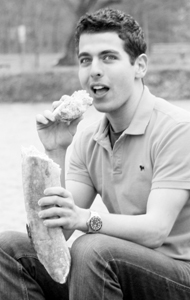 My interests include blogging, photography, food, and Middle Eastern culture. My goal is to combine these passions in an effort to make the world a more understanding and peaceful place. I created my food blog, Olive Juice, while finishing my bachelors degree at Cornell. I wanted an online platform where I could chronicle stories from my first trip abroad to Italy and Syria. Eating and sharing food, I learned, is a powerful way to connect with a culture.
I returned to Syria after graduation on a Fulbright grant to study the food culture in Aleppo — a culinary hub of the Middle East. My project explored lunch as it is prepared and consumed in three contexts: at homes, in restaurants, and in the streets. My intent was to start a conversation around food. I leveraged my blog and social media platforms to share stories, recipes, and photos from Aleppo.
Perhaps the biggest influence on me has been my family. My parents are part of the Syrian diaspora. My own family's journey to America has been predictably convoluted like many immigrants: all four grandparents were born in Syria, some moved to Lebanon, and eventually all of them made their way to Venezuela, where I was born. When I was four, my parents moved me and my brothers to Miami, Florida.
Today, I continue to use my blog as a platform for dialogue and cultural exchange. I am a web developer and offer culinary seminars at Whole Foods. I also represent the Fulbright Program as an Alumni Ambassador at universities and conferences across the United States.