Thank you for all the Christmas wishes – I wish everyone happy eating and the very best for 2009! My Christmas food coma lasted slightly longer than I anticipated with all the leftovers we have had at my house. In all seriousness, my mom went into full-on Arabic mode and cooked enough food to feed a medium-sized Army; needless to say it was more than enough for the 20 guests we had at our house.
I contributed a humble tray of baklava, which I'm posting about today. But, before I forget, I want to give props to Marianna who correctly named the famous Lebanese singer on my computer screen in my stuffed grape leaves post: Najwa Karam. I have some Middle Eastern goodies that I'll be sending your way once I fly back home.
The two Greek Pete's must forgive me when I say this, but Middle Eastern baklava is the best I've had. It might be because I grew up hooked on the countless trays my grandmother would whip up in her kitchen for parties, birthdays or when she knew her grandson was visiting – I'm not sure. Don't get me wrong though, I'm not one to turn down a good serving of the Greek kind either!
old school scale: 1/2 kg walnuts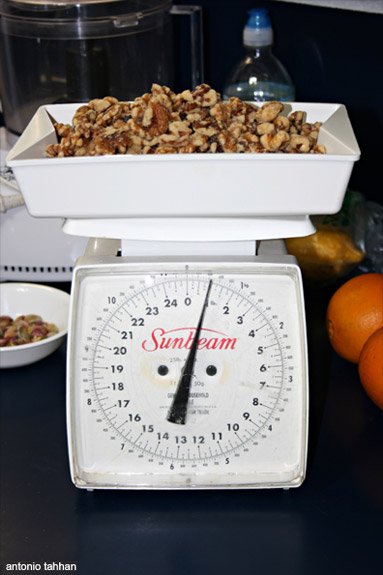 My mom has had this scale for longer than I can remember. It's seen better days, yes, but it never lets her down. Oh, and mise en place you ask? I was already pushing it with my camera and asking to take photos of every step.
mom brushed each layer with clarified butter
This is probably one of the most crucial steps for a good baklava, Greek or Middle Eastern. You want to use clarified butter to avoid the butter from burning in the oven and you also want to make sure to brush each layer liberally to achieve maximum crispiness.
my job was to sprinkle the chopped walnuts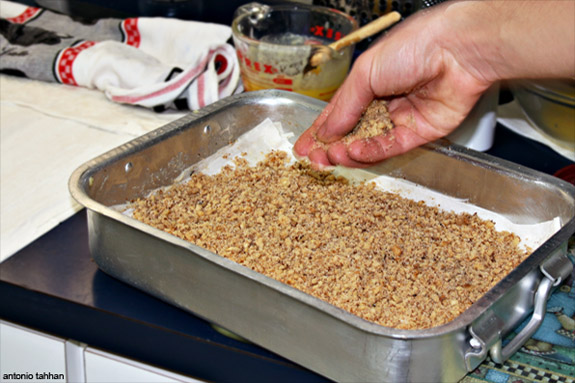 The walnuts must be fresh for making baklava. Taste the nuts before you use them and chuck them if they're rancid or stale. You also want to make sure you use fresh ground cinnamon for the filling. These little components is what makes for a good baklava.
slice before you bake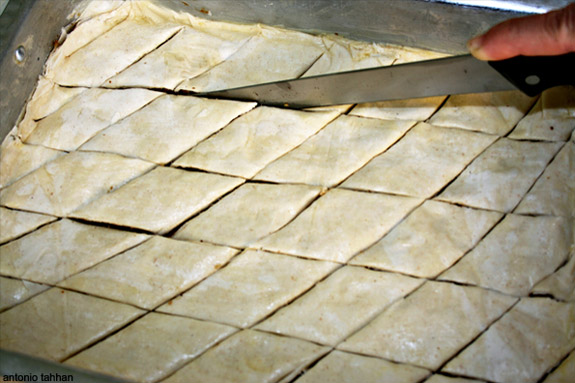 Since the layers will be too crispy when the the baklava comes out of the oven, you want to slice it before you bake it. This will also help the baklava absorb the syrup once it's finished baking.
cool syrup on hot baklava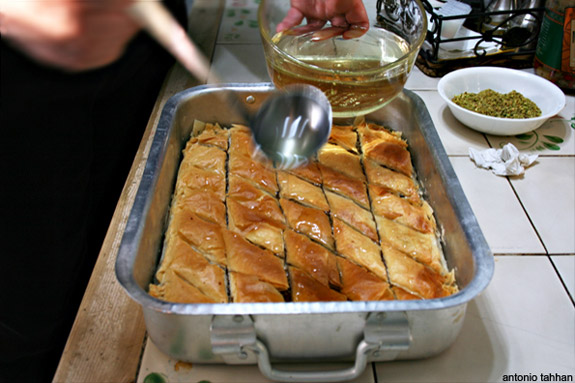 This syrup, called عطر (a'ater) or شيرة (sheera), must be at room temperature and poured over the baklava as soon as it comes out of the oven. Alternatively, you can let your baklava come to room temperature and douse it with hot syrup, but I find the first way to be more convenient.
Baklava (بقلاوة)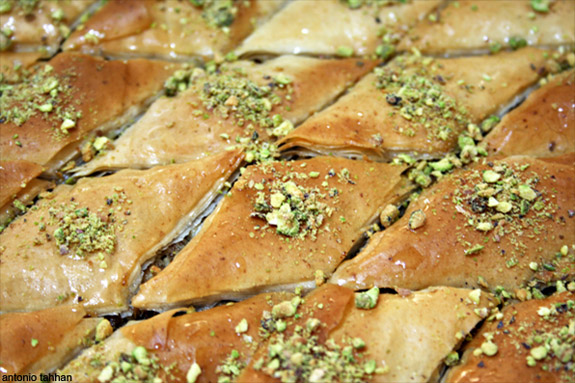 After you pour the syrup over the baklava and allow the whole thing come to room temperature, sprinkle each piece with bright green ground pistachios and enjoy! الف هنا و عافية (bon appetit in Arabic)
Middle Eastern Baklava
approx 24-32 servings
Components
1 lb phyllo dough
3 cups walnuts, finely chopped
3/4 cup butter, clarified
2 tsp cinnamon
1/4 cup sugar
simple syrup
pistachios for garnish
Putting them all together
Preheat oven to 325º F.
Pulse the nuts, cinnamon & sugar in a food processor until you reach a coarse consistency.
With a pastry brush begin by brushing the bottom of a 9X13 pan.
Layer 8 sheets of phyllo dough, making sure to brush clarified butter between each sheet.
Spread half of the nut mixture.
Layer 4 more sheets of phyllo dough.
Spread the remaining half of the nut mixture.
Top with the remaining 12 sheets of phyllo, making sure to brush each layer with clarified butter (including the top sheet).
Carefully slice the baklava into trapezoidal/diamond shapes (~24-30 pieces) .
Bake for 35-40 minutes, then transfer to the broiler on low until golden brown.
Pour the simple syrup (see next recipe) over the baklava as soon as it comes out of the oven and allow to come to room temperature before serving.
Arab simple syrup (قطر او شيرة)
approx 3/4 cups
Components
1 1/2 cup sugar
3/4 cup water
1 tsp orange blossom water
1/2 tsp lemon juice, freshly squeezed
1 strip of orange peel (optional)
Putting them all together
Bring the sugar and water to a simmer over medium heat.
Continue cooking over low heat until mixture becomes syrupy (approximately 10 minutes).
Add the lemon juice to prevent the syrup from crystalizing.
Remove from heat and mix in the orange blossom water.
Transfer to a mason jar or a jar with a tight fitting lid.
note: Syrup can be made a few days in advance and stored in an airtight container.