I still remember the day I stumbled upon the Daring Bakers. Do you? I thought it was odd. Why did everyone all of a sudden decide to blog about French bread? And why were they all using Julia Child's recipe? I was sure I had found some sort of freaky food cult, but there was no way around it. Every blog, every comment, everyone was going on and on about these breads. It was like being the new kid in school all over again; only this time all the cool kids were talking about food & baking.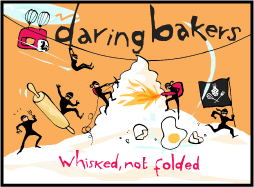 This is my 6th month now as a Daring Baker and I got to cohost the August challenge with the amazing Meeta from What's for Lunch Honey. She took me under her wing a few months ago and we immediately started scouring cookbooks for the ultimate recipe.
mise en place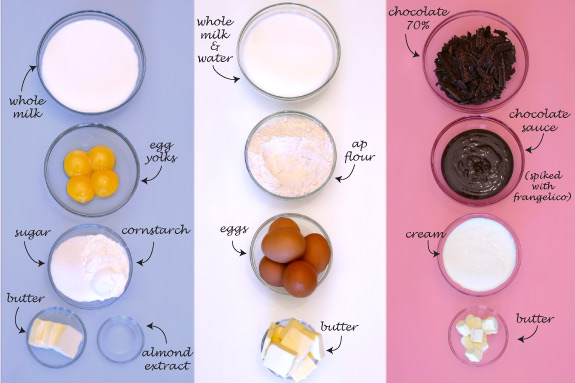 We began by brainstorming via e-mail and quickly settled upon an eclaire recipe from Meeta's sugar daddy, and king of French pastries, Pierre Hermé. This was great since I had never made éclairs, but consider myself a professional éclair eater. Of course, the best part of any challenge is modifying the recipe and having the complete Culinary Freedom to bake whatever you want. I decided to make profiteroles (ie tiny, round éclairs), filled with an almond pastry cream, glazed with a hazelnut chocolate glaze and topped with finely chopped pistachios. Here is how it all went down: 
choux dough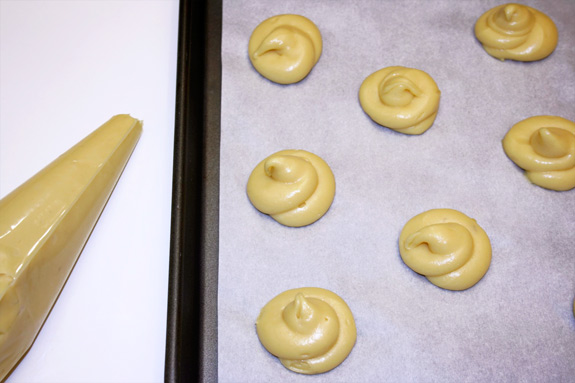 Choux dough is extremely easy to make, to my surprise. French pastries don't exactly have the best reputations for being the ones you could whip up in no time. But for this dough there is no worrying about cold butter or overworking the gluten by stirring it for mere seconds. Nope, all this is left behind when entering choux paradise. Once these babies puff up in the oven, you've got yourself an empty canvas perfect for filling with whatever your foodie heart desires.
profiterole work flow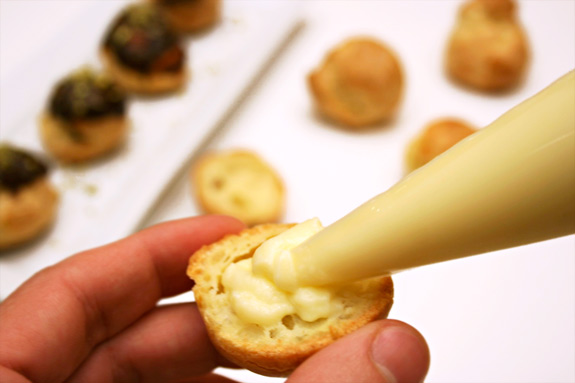 I opted for an almond-infused pastry cream, and let me tell you: this pastry cream could be a dessert on its own. I had no problems eating it straight from a spoon as the profiteroles were baking away in the oven. Eventually, though, I had to exercise self control in risk of not having enough filling for the pastries. Next time, I'm doubling the the recipe for the cream – mark my words!
triple nut profiteroles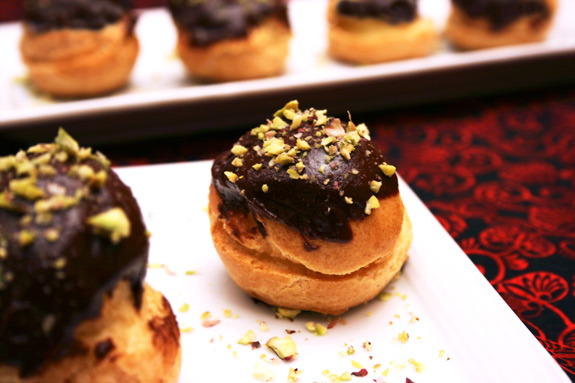 I've got to hand it to the French – they know exactly what they're doing when it comes to cuisine (especially pastries). I will definitely be making these again in the near future.
I want to send a big thank you to all the Daring Bakers who joined us this month in baking eclairs! Finally, I also want to send a big hug to Natalie of Gluten A Go Go and Helen of Tartelette for helping us tackle any choux questions and offering their pearls of wisdom on how to achieve eclair bliss. 
Triple Nut Profiteroles
makes approx. 35-40 profiteroles
adapted from Chocolate Desserts by Pierre Hermé
Components
900 g almond infused pastry cream
pâte à choux
1 cup hazelnut chocolate glaze
finely chopped pistachios
Putting them all together
Pipe choux dough onto a parchment-lined baking sheet and bake at 375 degrees F for 25-30 minutes or until golden brown and dry.
With a serrated knife gently slice open each profiterole and pipe pastry cream into the bottom half.
Replace cover, drizzle with hazelnut chocolate glaze and top with finely chopped pistachios.
notes: The individual recipes are posted under "Read more…"
made to be eaten