Buying my first house was a huge step. The experience was filled with a thrill, panic, and excitement that I'll never forget! I shared some horror stories in my last post, but homeownership has its upsides. I bought a historic row home from the late 1800s with beautiful exposed brick and a charm that makes me happy to come home.
I recently converted the inside panels of my kitchen cabinets into a magnetic spice rack. Out of all the DIY projects I've worked on this past year, this has been my favorite! I was able to clear an entire shelf of precious cabinet real estate and now I can see my spices front and center. I documented the process with my iPhone.
before: spice cabinet in disarray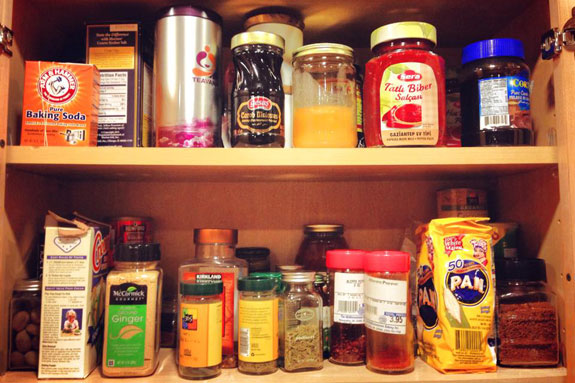 materials for project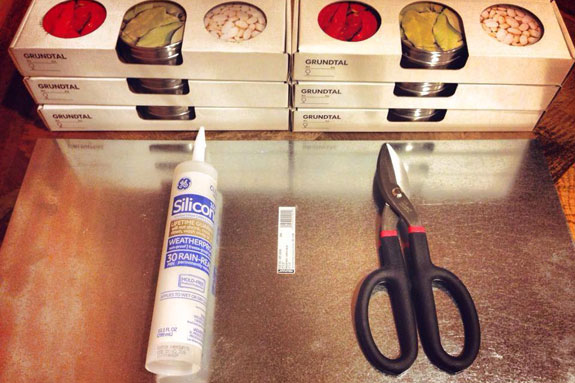 If you plan on doing this, make sure you use gloves while working with the sheet metal. The edges are extremely sharp! I ended up cutting two pieces of sheet metal by hand using the snips in the photo. They came out ok, but not perfectly straight. It also took a really long time and considerable effort to cut each piece. That's when I decided to called a few local metal fabricators. One of them was really nice and helped me cut the remaining two pieces perfectly straight using their industrial-sized cutter. I wish I had a picture of this — their machine was huge! It took less than a second per cut and they came out perfect.
measuring & marking the panel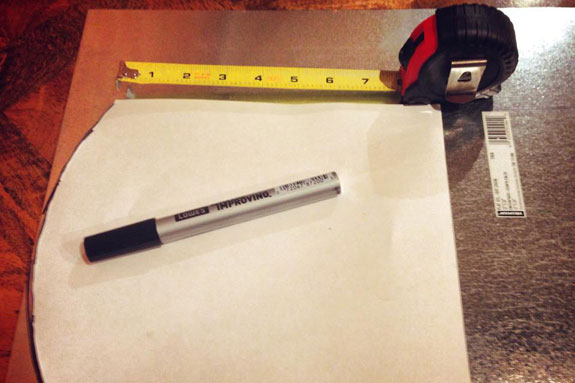 The inside of my cabinets have a little curve at the top that I wanted to recreate in the sheet metal. The metal fabricator who cut the metal for me recommended I do this part by hand. I traced the curvature of the cabinet onto a sheet of paper. Then I cut the paper into a stencil that I used to re-trace the curve onto the sheet metal.
sand away the rough edges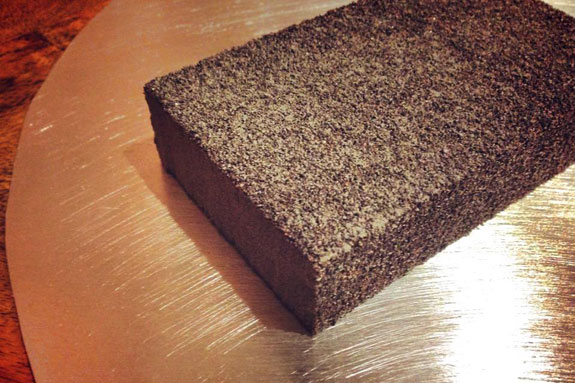 Sanding metal is important to remove any sharp edges. Interestingly enough, it also helps remove any scratches. The best way to get rid of scratches on the sheet metal are to blend them in with more scratches. I know it sounds counterintuitive, but it works.
clean cabinets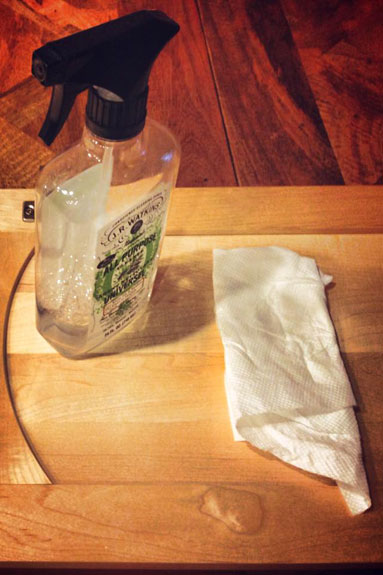 Before you can adhere the sheet metal to the inside of the cabinet, you have to make sure the cabinet is clean and dry. Unmount the cabinet doors from the hinges and wipe them clean with your favorite cleaner. Make sure the doors are completely dry before moving on to the next step.
100% silicone caulk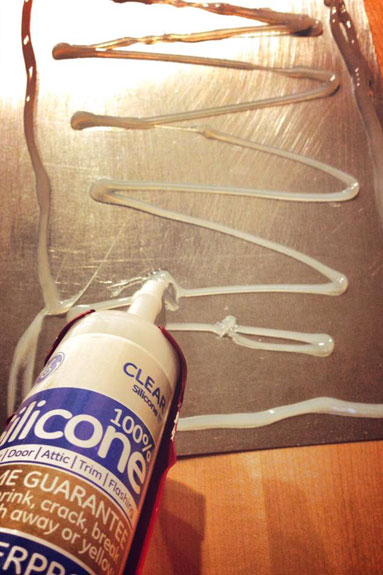 Use 100% silicone caulk to mount the sheet metal to the inside of the cabinet doors. Apply the silicone liberally, but not too close to the edge so that it doesn't ooze out from the sides.
weights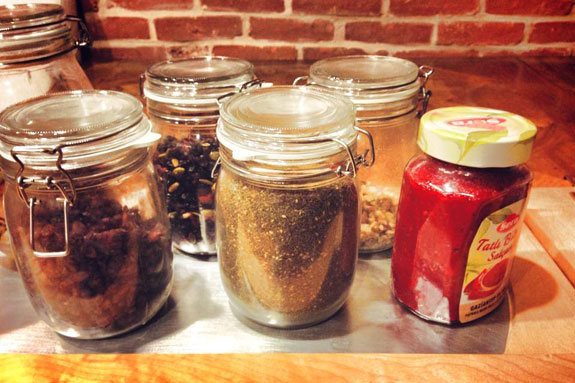 Apply some weights on the sheet metal while the silicone cures. This is a good time to go do something else: watch a movie, read a book, etc. I left my cabinets like this for a few hours to make sure the silicone had set.
the final project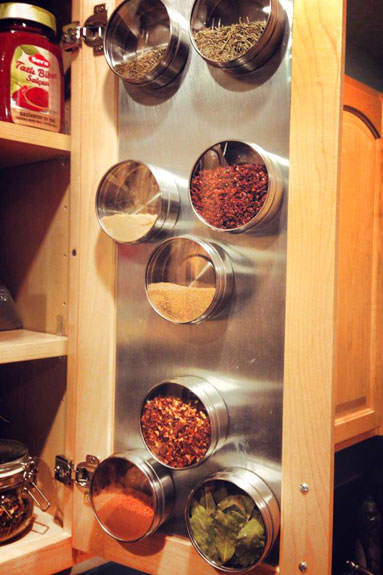 Once the silicone has finished curing, you can mount the doors back on their hinge. Fill your spice tins with your favorite spices and you're set!
clear labels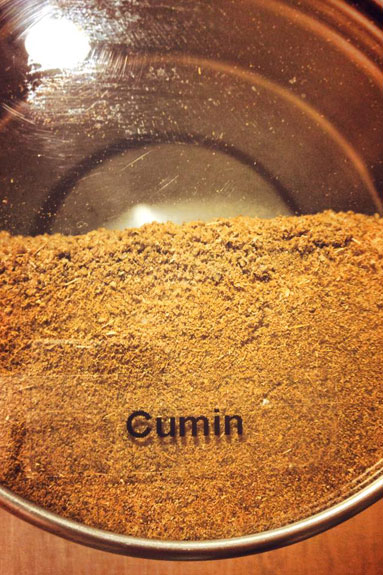 I hope you enjoyed this DIY post! Now, onto the food. If you haven't tried this Sicilian Orange-Infused Olive Oil cake from Saveur, you absolutely must. The recipe calls for two entire oranges that get pureed into the batter, skin, flesh, and everything. This is a common technique in Italy; it helps impart a wonderful citrus flavor.
I discovered this recipe while living in Italy back in 2007. My host mom made it for me a couple of times. She didn't follow any recipe. She made it from memory and it came out perfect each time. This is the closest I've come to recreating my host mom's cake.
2007: Making biscotti with my Italian host mom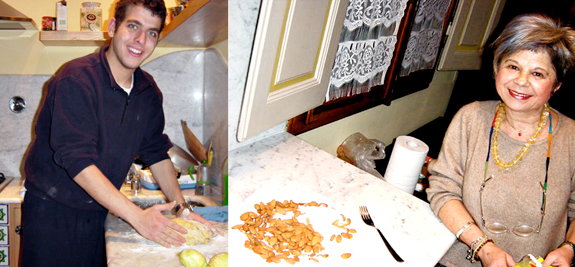 mise en place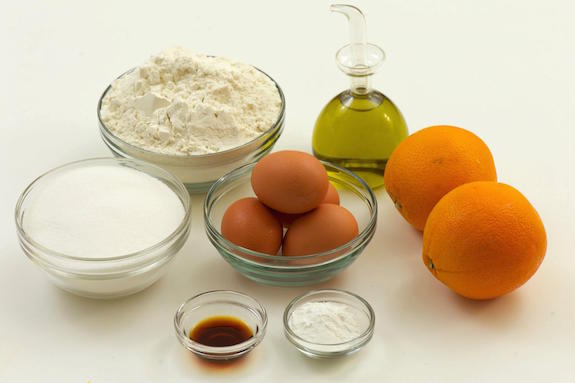 cut oranges into quarters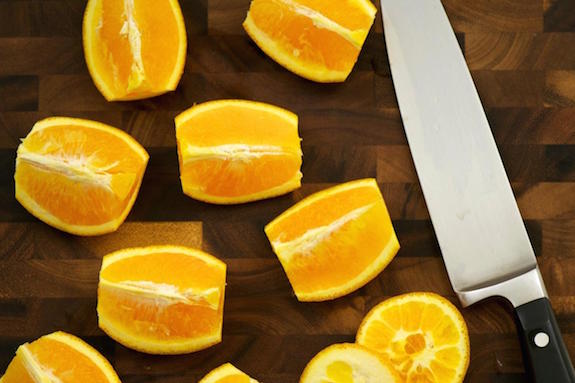 boil orange quarters thrice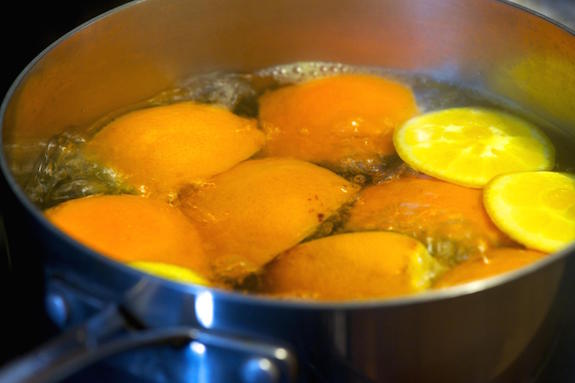 pureed oranges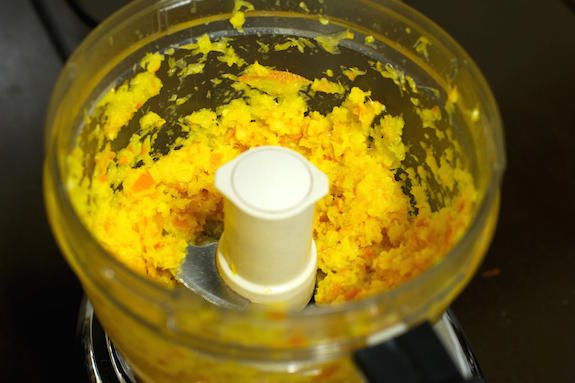 pour batter into cake pan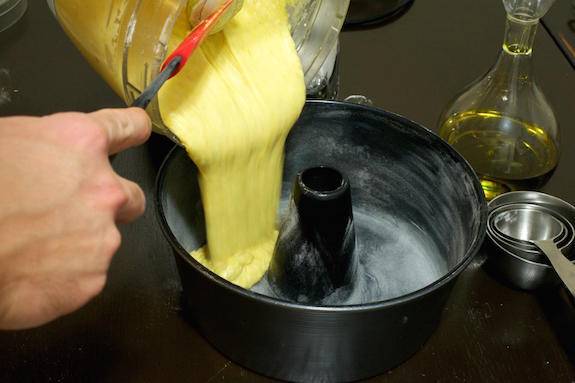 simple orange glaze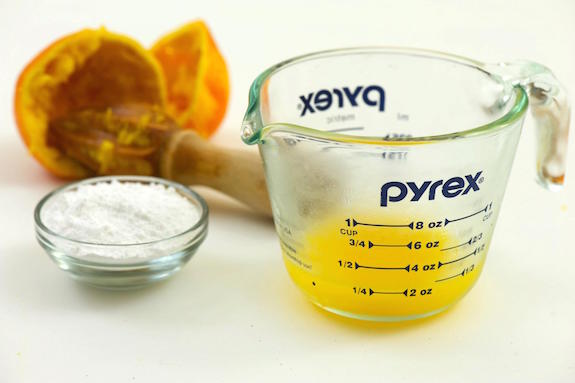 apply glaze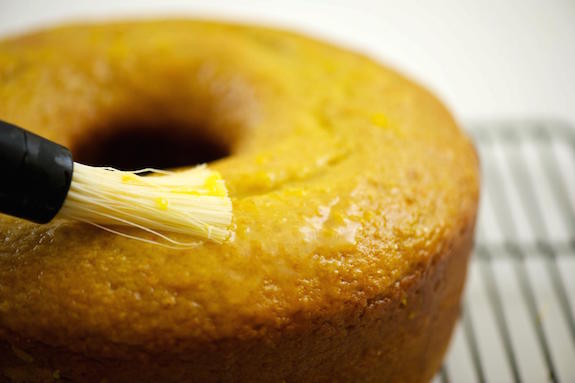 piece of cake!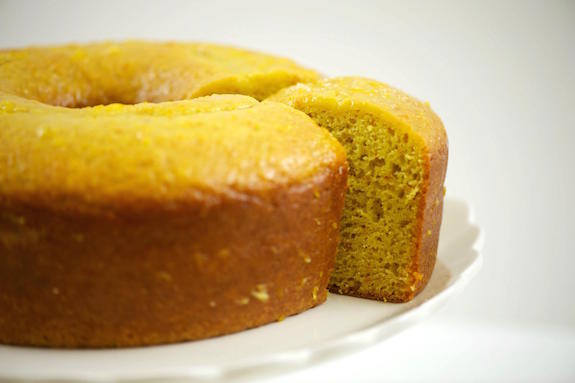 Orange-Infused Olive Oil Cake
yields 1 cake
Components
2 oranges
2 ⅓ cups sugar
unsalted butter, for greasing the pan
2½ cups flour, plus more for pan
2 tsp. baking powder
1 tsp. baking soda
1 tsp. vanilla extract
4 eggs
6 tbsp. extra-virgin olive oil
¼ cup fresh orange juice
¼ cup confectioners' sugar
Sea salt, for garnish
Putting them all together
Trim the tops and bottoms of the oranges — enough to barely expose the flesh.
Quarter the oranges lengthwise.
Bring 6 cups water to a boil and add the quartered oranges. Bring the water back to a boil and drain. Repeat this process twice more with fresh water. This will help cut the bitterness in the orange.
Put oranges, 1 cup sugar, and 4 cups water into a 4-qt. saucepan over medium-high heat. Cook, stirring often, until the sugar dissolves and the orange rind can be easily pierced with a knife (about 30 minutes). Remove pan from heat and let cool to room temperature.
Heat oven to 350°. Grease a bundt pan with butter and dust with flour.
Whisk together flour, baking powder, and baking soda in a medium bowl and set aside.
Remove orange quarters from syrup, remove and discard any seeds, and puree the orange quartered in a food processor. Pulse until oranges form a chunky purée.
Add remaining sugar, flour mixture, vanilla, and eggs, olive oil, and process until incorporated, about 1 minute.
Pour batter into prepared pan; bake until a toothpick inserted in center comes out clean, 40 to 45 minutes. Let cool for 30 minutes.
In a small bowl, whisk fresh orange juice and confectioners' sugar to make a thin glaze.
Remove cake from pan and transfer to a cake stand or plate. Brush orange glaze over top and sides of cake; let cool completely. Garnish cake with salt.
Note: Recipe modified slightly from Saveur.
cake served