It's getting close to graduation and I can't get myself to start packing all my food stuff for the big move this Sunday. Each time I told myself to focus and pack, my ADD kicked into high gear and the cardboard boxes and bubble wrap took a back seat to my distractions. Yesterday I decided to procrastinate with good taste and make wine-braised mushrooms with a goat cheese and mascarpone topping. What, what? I still have 4 more days until the parental unit gets here and starts complaining about how unproductive I've been this past week.
mise en place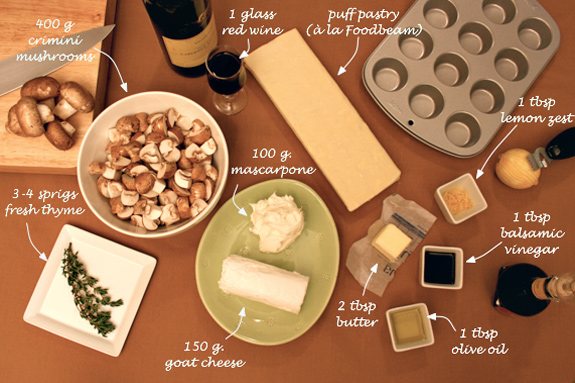 Anna, my host mom from Italy (and my friend Francesco's actual mom), came a week early to spend time in Ithaca before the big day. Since I'm a believer that not every dinner party has to be an 8-course, 20-guest ordeal, I called up Francesco and invited him and his mom over for some wine and appetizers. I made her biscotti recipe and whipped up a batch of my wine-braised mushroom cups.
simple/cute puff pastry cups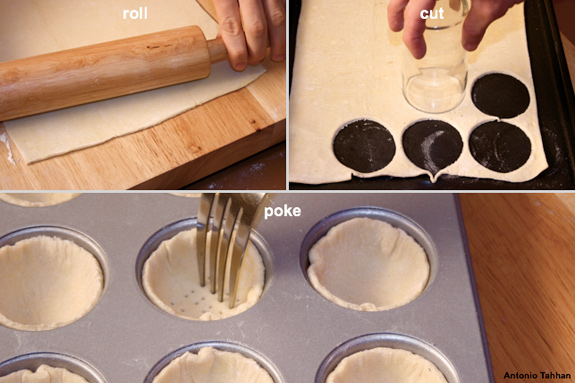 Puff pastry is key for this appetizer; and if you haven't already discovered Foodbeam, Fanny offers a brilliant step-by-step crash course on this classic French dough. Can you make do using the store-bought stuff? I guess. But only if your foodie conscience actually allows you to pick up the pre-packaged dough that has been sitting in the frozen isle of your local grocery store for who knows how long and has been stamped with a generic 2-year window of expiration… sigh.
Braising the mushrooms is a walk in the park. All you have to do is sauté them over high heat, deglaze the pan with balsamic vinegar and red wine, and lower the heat until most of the liquid evaporates.
Wine-Braised Mushroom Cups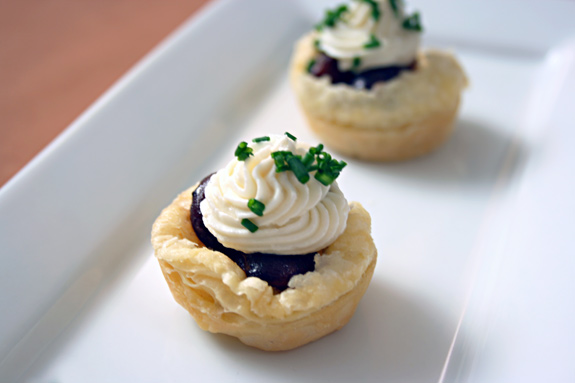 Wine-Braised Mushroom Cups
(yields approx. 24 cups)
Components
1 lb. crimini mushrooms, de-stemmed
2 tbsp butter
1 tbsp extra virgin olive oil
2 tsp. fresh thyme
1 clove garlic, minced
1 tbsp. balsamic vinegar
300 ml wine (1 small glass)
300 g. puff pastry
150 g. goat cheese
100 g. mascarpone cheese
zest & juice of 1 lemon
chives, for garnish
Putting them all together
Sauté mushrooms over high heat with butter, olive oil, thyme and garlic for about a few minutes until browned.
Deglaze the pan with balsamic vinegar and wine and lower heat to medium until most of the liquid has evaporated (apprrox. 25 minutes) and set aside.
Cut out circle rounds of puff pastry and bake in a mini muffin tin to make the individual cups (poke holes before baking to prevent excessive puffing).
Mix the cheeses, lemon zest and lemon juice for the topping.
Scoop a few mushrooms into each cup and top with the lemon-infused cheese mixture. Garnish with chopped chives and serve.
la dolce vita: sharing good food with friends and family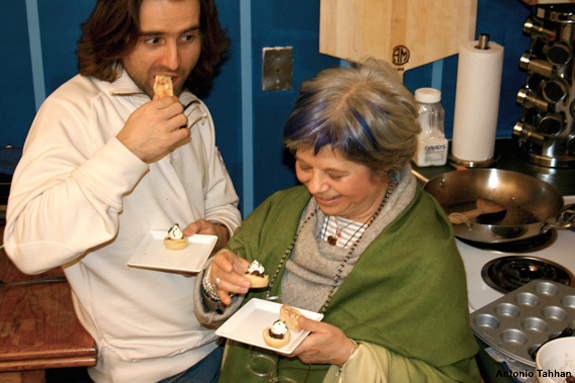 ATOM: A Taste of the Mediterranean
If it weren't for the whole making-a-living part of life, I would spend all my days traveling the world without even giving it a second thought.  Unfortunately, making a living seems to be one of the cruel prerequisites to my globe-trotting dreams; so, until then, I travel when I get the chance and often resort to cooking to fulfill the rest of my curiosity.
This past month I thought of an idea that would be awesome to do with all the fellow food bloggers out there.  Let's travel around the Mediterranean!  I know!  Why didn't I think of this before?  My type of travel doesn't require any sort of luggage or even a passport, just a hearty appetite for Med deliciousness.  We'll taste it all; from the Portuguese influences present in Spanish cuisine to the earthy undertones unique in North African fare. 
The project has been appropriately titled, A Taste of the Mediterranean.  Each month I will feature a different culinary region from the Mediterranean (French, Greek, Italian, Middle Eastern, North African and Spanish) along with an appropriate regional recipe.  This is where the traveling comes in.  The challenge will be to blog about your own spin on that particular recipe (or technique) for a chance to win that month's grand prize.
Each challenge will also come with a unique stamp that all participants can use to decorate their blogs with!   If you need a smaller version of the stamp for your blog, click here.  Participate each month and collect them all!
Pesto with my Italian Double
What better place is there to start our Mediterranean excursion than in Italy?  The challenge for this month is based on the classic Pesto Genovese!  The sky's the limit on the type of pesto you choose to make, so long as it follows the basic nut-cheese-garlic-oil combo.  All entries must be submitted (i.e. posted) by June 15th in order to be eligible to win that month's prize. 
In the mean time, I leave you with a Pesto video I made with my Italian Double, Paolo.  I look forward to reading all the amazing pesto ideas everyone has to share!
Cheers,
Tony
All the rules & regs are posted here.
These are a couple of my favorite pestos: