A few days ago, when I wrote about my grandfather, I was touched by the support I received in the form of emails and comments. I called my grandmother actually, and read her a few of the messages bloggers and non-bloggers had left describing their personal relationship between food and family. At the expense of sounding sappy, it made me realize how much I enjoy blogging. I really do. As for my grandmother, she said I ought to cook a nice dinner for everyone. Since we're all scattered around the world, however, I thought I'd share with you the next best thing, a post on one of my favorite refreshing pasta dishes you can enjoy all summer.
mise en place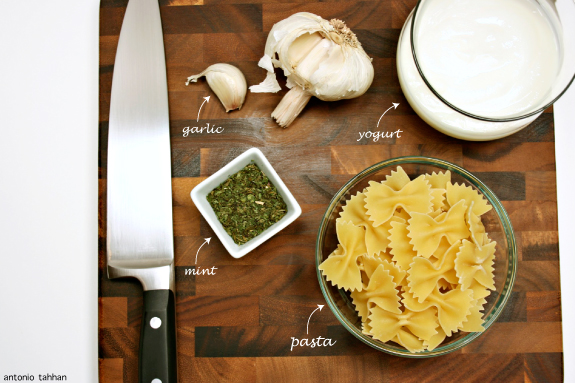 This dish takes approximately 11-13 minutes to put together – depending on the time it takes to cook your favorite kind of pasta. For this dish, and most others in fact, I go with farfalle. I like how they look on the plate; butterflies or bow ties, they have a simple elegance to them. Perhaps I can also argue that the perfectly-pinched middle creates deep nooks ideal for the yogurt sauce to settle in, but this dish isn't that fussy, in fact, any pasta shape will do – and if you want more sauce, go ahead and eat with a spoon, no one's looking.
garlic paste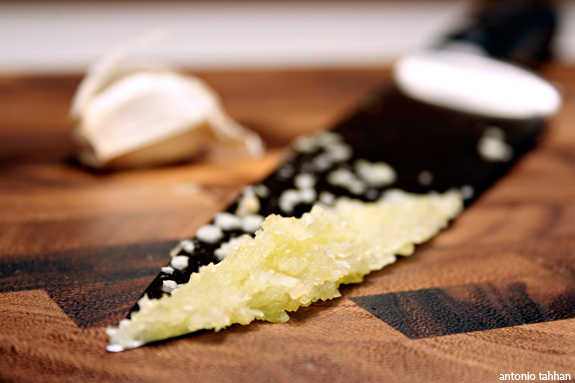 For this dish you'll want to mince, or pretty much smash, the garlic into a smooth paste. If you add salt to the garlic while you're mincing, the friction will help break down the cell walls of the garlic and also help create a smooth, paste-like consistency.
yogurt sauce with dried mint & garlic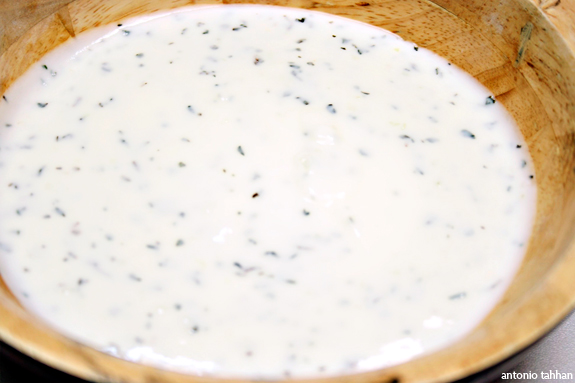 The sauce is the what makes the dish special. Throughout the Middle East, Greece and the rest of the Mediterranean, yogurt is predominantly used for savory dishes. The yogurt has a cooling effect that helps counteract the spicy heat of the raw garlic and also acts as a smooth, creamy sauce for pasta.
Pasta with Mint Yogurt Sauce
approx 4-6 servings
Components
1 lb pasta
24 oz plain, whole milk yogurt (3/4 large container)
1 1/2 – 2 tbsp dried mint
1-2 cloves of garlic, finely minced
salt, to taste
extra-virgin olive oil, optional
Putting them all together
Make sauce by mixing together yogurt, garlic and mint. Set aside at room temperature.
Bring water to a boil, season with plenty of salt (1-2 tbsp), and cook pasta according to instructions on the box.
Once pasta is done cooking, drain very well and mix with yogurt sauce that has been sitting at room temperature.
Season with salt and drizzle with a little extra virgin olive oil.
notes: If you want a thicker sauce, try using a combination of Greek (strained) yogurt and regular yogurt. I prefer mine to be more on the light refreshing side, so I only use regular yogurt.
pasta with refreshing yogurt sauce